From the Editor
In this issue you will find resources to help you promote RNFA legislation in your state. Our surgical topic of the month is mastectomy.
You'll also find two profiles: an employee spotlight on
Joshua Tegegn, NIFA's suture-making specialist–a man with a remarkable story–and a student spotlight on
Aimee Melton, of Thornton, CO, a Certified Nurse-Mid
wife.
If you're not already an RNFA, or if you know someone else who has been considering training, scroll down to the ad at the bottom and take advantage of big savings before NIFA's RNFA tuition goes up on June 1.
Bring RNFA Reimbursement to Your State
There has been discussion this month on AORN's
ORNurselink
about getting RNFA legislation in different states. 
Make 2013/2014 the year of the RNFA advocate!
For two decades the AORN has experienced much success in getting reimbursement legislation for RN First Assistant (RNFA) services in up to 16 states. But they could still use your help. Would you like to start a grass roots movement to initiate recognition of RNFAs in your state through reimbursement acts and/or scope of practice acts?  If so, first
click here to see if you already have legislation regarding RNFAs in your state
.
Videos on Breast Cancer and Mastectomy:   
Check out these new techniques and treatments for breast cancer patients. New York Presbyterian has an informative array of videos regarding breast cancer and mastectomy including:  Breast and Nipple Sparing Techniques
 Perioperative Puzzle:  Mastectomy
Test your knowledge of mastectomy with this crossword puzzle.
When you're ready to check your answers follow this link to see how well you did!
Good Luck!
Employee Spotlight
Meet Joshua Tegegn: NIFA Suture Man 
In a quiet upstairs room at NIFA headquarters in Centennial, CO, Joshua Tegegn works every day to manufacture the different kinds of suture our students use in the RNFA program: Vicryl, Poly Mono, Silk on, Keith's, Tapered, Cutting, Detachable and Double Armed.
Joshua's surroundings are in sharp contrast to some of the other places he's been.
Born in Addis Ababa, the capital of Ethiopia, he went to jail and prison as a teenager due to his choice of religion. Later he spent more than 11 years as a prisoner of war in Somalia before coming to the US in 1990.
iPad Apps of the Month
All the following apps are available at the Apple store. Click on the name to go there.
Nottingham Prognostic Index Calculator is based on the work of the Breast Surgical Team at Waterford Regional Hospital, Waterford, Ireland. It is a tool for healthcare and medical professionals in the area of breast cancer and breast surgery.
Breast Center
by Center for Restorative Breast Surgery is an app you can offer to patients to help them learn about breast reconstruction and the newest and most sophisticated techniques available, whether they are newly diagnosed or looking for information about reconstruction after a mastectomy.
Student Spotlight
Name:  Aimee Melton
Credentials:  CNM, DNP
City and State:  Thornton, CO
Current Job: The Women's Health Group, Thornton, CO
Why did you want to become a nurse? I was working in molecular biology, which is very interesting, but solitary. I was tired of seeing the same four people and the same four walls and the same four molecular techniques every day and not making any money. I thought I would prefer working with people and healthcare has always interested me, so nursing school seemed a natural fit.
Where did you get your RN training?
University of Colorado Health Sciences Center.
Why did you decide to become an RNFA?
I already assist with Cesarean sections, but when I started working with the Ob/Gyn doctors at Women's Health Group they saw an opportunity for me to assist with their gyn surgeries as well. In order to obtain privileges to assist in the OR I needed to go through an RN first assist course.
What is one thing you learned in your RNFA training that was particularly helpful?
I gained an appreciation for all the preparation that goes into readying the patient and the operating room for the procedure. It is important to anticipate the needs of the surgeon and consider specific patient needs.
Questions?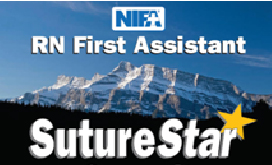 Do you have questions about implementing an RNFA team or becoming an RNFA?
Our new continuing education course,
RNFAs, APRNs and Implementing an RNFA Team
, will answer many of your questions. If you need answers more quickly, please see the links below or just call us at 1-800-922-7747. We will be happy to discuss any questions you may have and discuss the benefits to staff, surgeons and administrators of having an RNFA team at your facility
.

Prerequisites for becoming an RNFA
Surgical Skills Workshops
NIFA Office Hours
Monday-Thursday 7:30am – 5:00pm (Fridays 7:30am – 4:00pm).