From the Editor 
The birth of a preemie in my family inspired this month's topic.
My great-nephew Nicholas James was born at 3 lbs., 2 oz. in late February. He did not require surgery but had to spend several weeks in the NICU. He's home now and baby and parents are doing well. Not all babies are so fortunate. But amazing things are being done in neonatal and pediatric surgery, and this month we share with you some news stories and videos on the topic. Plus humor and a "word search" puzzle to test your  knowledge of pediatric conditions and procedures.
Our Graduate in the Spotlight is Paul Giles, RN, CNOR, RNFA, of Weslaco, TX. In the 15 years since he earned his RNFA from NIFA, he has gone on to help numerous clinics improve their practices and profitability.
You'll also find job openings we've collected for you and practice resources.
Enjoy!


Julie Lancaster
Neonatal / Pediatric Surgery in the News
In Northeast England, Baby Chanel Murrish had heart surgery minutes after being born–the youngest baby in the United Kingdom to undergo open-heart surgery. Click here to read the story on The Independent.
And in Tampa, FL, a three-year-old is back home after a 5-organ transplant, having been born with a birth defect that left intestines formed outside his body. Read the story on First Coast News.
Videos
Neonatal repair of TOF/PA (tetralogy of fallot with pulmonary artresia, also known as PA/VSD) administered by Redmond Burke MD, Chief of Pediatric Cardiovascular Surgery at Miami Children's Hospital.
All Children's Hospital in St. Petersburg, FL, part of Johns Hopkins Medicine, offers a large library of pediatric surgery videos, including laparoscopic, single-incision, and thoracoscopic surgeries. The shot at left is from the Thoracoscopic Lung Resection video.
Surgical Humor
Two little kids lined up for surgery are lying in stretchers outside the operating room.
The first kid leans over and asks, "What are you in here for?"
The second kid says, "I'm in here to get my tonsils out and I'm a little nervous."
The first kid tries to reassure the other and says, "Oh! don't worry. It's very simple. I had
that done when I was four. They put you to sleep, and when you wake up they give you lots of Jell-O and ice cream."
The second kid, feeling a little better, then asks, "What are you here for?"
The first kid says, "A circumcision."
The second kid says, "Whoa! I had that done when I was born. I couldn't walk for a year!"
General Surgical iPhone/iPad Apps
Pediatric Surgery. Concise Medical Media (CMM) has produced an easy-to-use, readily accessible electronic source of medical information on Pediatric Surgery. The app provides such topics as Abdominal Wall Defects, Anorectal Malformations, Biliary Atresia, CDH, etc., and then provides background, cases and questions for each topic. Designed for iPhone and iPad.
Perioperative Puzzle

This month's puzzle is a word search for terms used to describe pediatric conditions and procedures. Good luck!
Pediatric Word Search Puzzle (pdf)
Pediatric Word Search Solution (pdf)
Graduate in the Spotlight
Name
: Paul Giles
Credentials:
RN, CNOR, RNFA
Student Status:
Graduated from NIFA's RNFA program, 1999
City and State: Weslaco, TX
Current Position: Administrator, Knapp Surgery Center Back in 1999, when Paul Giles took NIFA's RNFA program, he was working for a group of neurosurgeons in Ft. Smith, AR.
After earning his RNFA, Paul went on to work as a travel nurse in numerous states, learning about medical facility operations at the same time he was working in the OR. He showed a knack for business and eventually took on roles such as Director of Surgery and Chief Nursing Officer at numerous facilities.
Currently he is the Administrator of Knapp Surgery Center in Weslaco, TX, which he has helped develop into a thriving organization using his unique approach–run a tight ship but always remain open to input.
Questions?
Do you have questions about implementing an RNFA team or becoming an RNFA?
RNFAs, A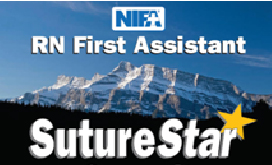 PRNs and Implementing an RNFA
links below or just call us at 1-800-922-7747. We will be happy to discuss any questions you may have and discuss the benefits to staff, surgeons and administrators of having an RNFA team at your facility.
Prerequisites
for becoming an RNFA
Surgical Skills Workshops
NIFA Office Hours
Monday-Thursday 7:30am – 5:00pm (Fridays 7:30am – 4:00pm).