From the Editor
How does your hospital stack up? Consumer Reports has released its latest Surgery Ratings . . . see below.
Our surgical topic this month is cardiac surgery. You'll find videos, apps and a crossword puzzle to help you learn about this topic.
And read on for job listings, our students' favorite RNFA resources, and this month's Student in the Spotlight, M. Nicole Webb, RN, BSN, CNOR, of Anchorage, Alaska.
Also, we announced the winner of the recent iPad drawing. Congratulations AORN member Wendy Rich. RN, of Sylva, North Carolina!
Enjoy!
Julie Lancaster, Editor
2013 Consumer Reports Surgery Ratings
Consumer Reports has released its latest findings showing how hospitals nationwide compare in avoiding adverse events in Medicare patients during their hospital stay for surgery.
"The analysis looked at Medicare claims data from 2009 through 2011 for patients undergoing 27 categories of common scheduled surgeries," states the report, which provides data on 2,463 U.S. acute-care or critical-access hospitals.
New ANA Recommendations for Requiring Health Plans to Include APRNs
The American Nurses Association has recommended to the Centers for Medicare & Medicaid Services (CMS) that to qualify for inclusion, health insurers seeking to offer plans on state health insurance exchanges must include at least a minimum number of advanced practice registered nurses (APRNs) in each plan's network of health care providers. 
Click here to read more
.
Unusual Heart Surgery  (and cardiac surgery videos)
Dr. Costantini is a Cardiothoracic/Thoracic Surgeon at Broward Health Medical Center in Ft. Lauderdale, FL. He quickly gained national attention as the physician who cared for the infamous "Stingray Jim" Bertakis.
Bertakis was enjoying a leisurely cruise down a Florida canal when out of the water flew a 36-inch, 32-pound spotted eagle ray, that slammed into him from the blind side. Its "stinger" plunged into Jim's chest,  piercing his lung, then snapping off, leaving two inches of  the venomous, razor sharp and serrated barb inside of him. Only two other people in recorded medical history have survived a stingray barb to the heart area –  they were both 35 years old or younger. At the time of his attack, Bertakis was 81.
Because of the excellent care and treatment from Dr. Costantini, Bertakis made a full recovery.
Surgical Jokes
School Doctor: Have you ever had trouble with appendicitis?
Student: Only when I tried to spell it.
– – – – – – – – – –
I had my appendix removed. There was nothing wrong with it, I just did it as a warning to the other organs in my body to shape up or they're out of there.
– – – – – – – – – — – – – – – – – – –
A blonde was having sharp pains in her side. The doctor examined her and said, "You have acute appendicitis."
The blonde says, "That's sweet, doc, but I came here to get medical help."
– – – – – – – – – –
A doctor's phone rings at 2 AM. "Doc, my wife is hurting something terrible. I think it's her appendix."
"I took out your wife's appendix two years ago. Go back to sleep."
Five minutes later, the phone rings. "Doc, I'm sure it's her appendix."
"Did you ever hear of anyone having a second appendix?"
Two minutes later, the phone rings. "Did you ever hear of anyone having a second wife?"
– – – – – – – – – –
One book to another, "You look so much thinner." Second book, "Thanks, I had my appendix removed."
Perioperative Puzzle: Cardiac Surgery


Test your knowledge of Cardiac Surgery in this month's crossword puzzle.
Click here to check your answers.
Cardiac Surgery Apps
The Journal of Thoracic and Cardiovascular Surgery iPad AppNow it's easy to stay current with the latest research in thoracic and cardiovascular surgery. Read abstracts, articles (including new Articles in Press throughout the month), and watch in-article videos from The Journal of Thoracic and Cardiovascular Surgery on your iPad.
Heart Surgery App
In this virtual heart surgery game you assume the role of surgeon in coronary bypass surgery. The procedure involves more than 10 steps from prep to patient recovery. At each stage you receive instructions on how to proceed; there are three levels of difficulty. This app is compatible with iPhone, iPod Touch and iPad.
CV Surgery Risk App
This app estimates the risk of morbidity and mortality following the most common types of open heart surgery, including coronary bypass surgery, aortic and mitral valve surgery, and combined valve-bypass surgery. It calculates risk based on the results of large numbers of patients but is not a substitute for the opinion of an expert cardiac surgeon. The application should be used as a tool to guide discussions with patients, families, and health care providers regarding potential outcomes after open heart surgery. Compatible with iPHone, iPod Touch and iPad.
Student Spotlight
Name:  M. Nicole Webb
Credentials:   RN, BSN, CNOR
City and State:  Anchorage, AK
Current Job:  Providence Alaska Medical Center and Alaska Spine Institute Surgery Center
Why did you want to become a nurse?  I chose to become an RN because the field provides a variety of career options and I knew that I wanted to work in medicine.    
Where did you get your RN training?  I received my BSN at the University of New Mexico in Albuquerque, NM.   
Why did you decide to become an RNFA?  I love surgery and I wanted to expand my scope of practice within the operating room. I am going back to school this fall–an Adult-Gerontology Acute Care Nurse Practitioner program at Vanderbilt University–and I think the skills I am learning as an RNFA will be a perfect complement to my new role as an ACNP.
What is one thing you found particularly useful in the training?  Everything I have learned in my RNFA training has been helpful! All of my OR training was on the job, so having formal course work reinforce what I have already learned has made me a better nurse overall.        
Questions?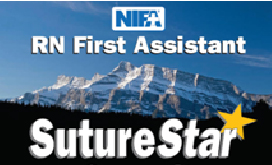 Do you have questions about implementing an RNFA team or becoming an RNFA?
Our new continuing education course, RNFAs, APRNs and Implementing an RNFA Team, will answer many of your questions. If you need answers more quickly, please see the links below or just call us at 1-800-922-7747. We will be happy to discuss any questions you may have and discuss the benefits to staff, surgeons and administrators of having an RNFA team at your facility.

Prerequisites for becoming an RNFA
Surgical Continuing Education
Implementing an RNFA Team at your Facility
Carotid Endarterectomy
Vessel Harvesting
Cesarean Section
–and our latest, Robotic Surgery Training!
Call 1-800-922-7747 for details!
NIFA Office Hours
Monday-Thursday 7:30am – 5:00pm (Fridays 7:30am – 4:00pm).