From the Editor
Happy Labor Day Weekend! We wish you, your family and friends a safe and joyful time.August is Neurosurgery Awareness Month, so with this issue we bring you numerous resources to sharpen your knowledge in that field.
Neurosurgeons aren't just brain surgeons. In addition to working with the brain itself, they provide many kinds of surgical and nonsurgical care for patients with back and neck issues. They also are leaders in diagnosing and treating head and neck injuries, including traumatic brain injuries and concussions.
But since our readers are most interested in surgery, we have focused on videos and apps that explore new surgical approaches.
In this issue we also welcome James Durkee as the IT specialist on the NIFA staff.
 You'll also find our latest collection of RNFA jobs and some favorite resources. Enjoy!Julie Lancaster
 Neurology Videos
 Minimally Invasive Brain Aneurysm Repair
"Roughly one in 50 people is walking around with an un-ruptured brain aneurism," begins this video from Baptist Health, South Florida. "That's the bad news. But the good news is that there is now available a minimally invasive, relatively low-risk procedure that can treat this dangerous condition." The video includes a discussion and demonstration of endovascular embolization.
Neurology Apps 
The following apps are designed for both iPhone and iPad:
Neurosurgery Conditions & Treatments  is a neurosurgery guide, providing in-depth details for symptoms, description, diagnosis and treatment for many neurosurgery conditions.
The Neurosurgery Survival Guide is quick reference guide designed for people working in Neurointensive care but also appropriate for those who want to learn about neuroanatomy, cavernous sinus anatomy, spinal cord, functional neurosurgery, and neuroimaging.
mLumbarMicroDiscectomy is an information resource for the surgical procedure known as a lumbar posterior discectomy. It presents surgical visualizations, medical images and educational notes for anyone seeking an introductory understanding of the procedure.
Podcasts: UCLA 100 Subjects in Neurosurgery 
NIFA Staff Spotlight: James Durkee
This month we welcome James Durkee, NIFA's new IT specialist, to our staff.
James grew up in Wyoming and Minnesota, and has also lived in Arizona and Texas. He attended the University of Wyoming and has since pursued a career in IT.
"I've been using computers since before I knew how to write letters on paper," James says. "My grandpa worked for IBM so I grew up around computers."
Throughout James' life and employment, his skillsets have dramatically grown as he has provided troubleshooting and support for enterprise information systems, as well as educational technologies. He is proficient in a wide array of programming languages, starting with HTML at the age of 12.
"My IT career started in the technical support department at eInstruction® Corp, where I provided resolutions and training assistance to educators," he says. "My focus was classroom technologies such as 'clicker' systems, Learning Management System plug-in support, test and assessment suite software and white board systems."
James' ability to quickly identify a student's issues (now RNFAs), combined with  the  communication skills  to  assess and  act  upon  customer  needs, allows him to provide solutions to a wide array of problems both over the phone, and through email.
"After providing technical support for some time," James continues, "I moved into an opening eInstruction® had for a help desk position which primarily focused on desktop systems support, with some administration of the Microsoft infrastructure. My responsibilities with the corporation grew, from desktop and laptop support to taking on a systems administration position, and I became responsible for managing the Learning Management Systems used in development, programming PowerShell scripts for Active Directory/Exchange administration, configuring System Center Configuration Manager, and training the other IT staff to use these solutions."
His experiences led him to to working for SugarCRM, where his interaction with clients rapidly developed a strong understanding of business processes and translating those into technical requirements for companies.
"I can't tell you how excited I am to bring my technical skills and experience to NIFA and work with this incredibly talented group and their phenomenal RNFA student base!" he says.
James, who was living in Minnesota two months ago, was attracted to NIFA because of the Denver location.
"I've always loved Denver and have wanted to live here, and I enjoy the culture at the NIFA office," James says. "Nobody has said anything about the fact that I wear flip-flops to work.
The NIFA office is famous for its Friday "Bring Your Pet to Work Day" (see our May 2008 issue). Will James be bringing his two cats to work?
"I'd have no problems with that," he said, "but some of the other employees are allergic." His cats are both Colorpoint Siamese – a breed of short-haired cats through which breeders have tried to remove some qualities of Siamese, retain others, and introduce different coloration, James explains.
So it looks like Buddy, a male flamepoint Siamese, and Sifon, a female calico with flamepoint markings, will have to stay home for now.
 Job Front
Vanderbilt University Medical Center is looking for experienced RNFAs (Registered Nurse First Assistants) for our operating rooms. We are a large academic medical center caring for all patient populations across all specialties. Annually we perform over 36,000 surgeries in over 60 adult operating rooms. Read more.
Click here for more information on the above sponsored posting and all the other RNFA job postings we've collected for you this month!
Is Your Income at Risk?                (advertisement)
You've invested in a career that allows you to perform medical activities that in the past were the province of physicians only.  It's your competent and caring presence on the medical team that helps streamline the timely delivery of contemporary healthcare to the patients who need it.
But who would be on your team if a sickness or injury were to prevent you from working for months, or even years?  No one plans to be badly injured or too sick to work, of course. But having strong disability income insurance can help you protect yourself against such an unfortunate but very possible scenario.
Your Group Long Term Disability (LTD) plan may not provide the coverage you need if you become too sick or injured to work.  Most group plans provide basic income protection and a considerable amount of your income may be exposed.  Because Group LTD is often paid for by the employer with pre-tax dollars, you'll be taxed on any benefit you receive.
Individual disability income insurance can help replace or supplement your income and maintain your standard of living. Unlike group LTD, coverage stays with you even if you change jobs. And, the benefits you receive are tax free when you pay with after-tax dollars.
Let's talk and see if your income is at risk!
Questions?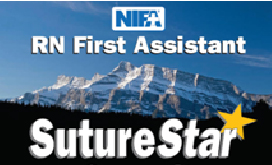 Do you have questions about implementing an RNFA team or becoming an RNFA?
RNFAs, APRNs and Implementing an RNFA Team
will answer many of your questions. If you need answers more quickly, please see the links below or just call us at 1-800-922-7747. We will be happy to discuss any questions you may have and discuss the benefits to staff, surgeons and administrators of having an RNFA team at your facility.
Prerequisites for becoming an RNFA
NIFA Office Hours
Monday-Thursday 7:30am – 5:00pm (Fridays 7:30am – 4:00pm).