NIFA Surgical e-News, February 27, 2012
Name: Claudia Vazquez
Credentials: RN, RNFA, CNOR
NIFA Graduate: 8/2010
City and State: Fortuna, CA
I have been a RN for 12 years with Medical-Surgical, Public Health, and OR experience. I have worked in the OR for the past 8 years in a small hospital in Fortuna, CA mainly as a circulator RN, scrub nurse, PACU RN, endoscopy RN, and recently as a RNFA. I love my job as a full-time OR nurse, but especially enjoy first assisting.
I had been interested in joining Dr. Glenn Geelhoed's team on a medical mission since I first heard about his work through NIFA as a RNFA student. I had read NIFA instructor Jennifer Curran's mission story to the Philippines and was fascinated by Dr. Geelhoed and his team's accomplishments. So when NIFA offered to sponsor me in Dr. Geelhoed's December 2011-January 2012 mission to South Sudan, I immediately responded. After talking with Zach Smith from Mission to Heal, I knew this was where I wanted to start the New Year: in a hot and dry country, deprived of any luxury, working long hours a day with limited food and water resources. I imagined the worst of conditions and anticipated all kinds of physical, mental, and spiritual challenges, but I trusted God would get me through this exciting adventure.
The original plan in South Sudan involved working with the Murle people in Pibor and neighboring villages in Jonglei State, treating their illnesses, and training them in the surgical care of certain conditions. But due to safety concerns in that area, we decided to prolong our stay in Bor (the capital of Jonglei State) and work with the Dinka people.
In Bor State Hospital, our eight-person medical team participated in patient rounds with the ward doctors, then rotated between Outpatient Clinic and the Operating Theater. We encountered patients with different tropical diseases, such as malaria, typhoid fever, leishmaniasis, schistosomiasis, as well as the rare appendicitis and cancer. Our team also assisted in surgery with gunshot wound exploration of the extremities, laceration repairs, I&D of abscesses, and an exploratory laparotomy. I was amazed by the surgical team's ability to run their two operating rooms with limited resources and unpredictable power supply.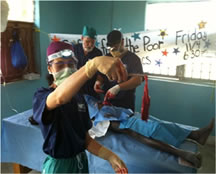 The highlight of our trip, however, was in Malek where we provided medical and surgical care in a primitive clinic. As the RNFA of the team, I was in charge of coordinating the use of instruments and supplies for each surgical case. We had limited supplies, but we found creative ways to use what we had to make it work. Our medical team covered all aspects of the perioperative phase. Everyone was eager to work and learn from each other. We performed 26 operations in three days using regional anesthesia. The cases varied from laceration repairs, lipoma excisions, and I&D of abscesses under local injection to inguinal hernias and a hydrocelectomy under spinal anesthesia. I assisted on most of the hernias, trained some of the team members with suturing technique, and provided pre-op and post-op care as needed. Dr. Geelhoed also assisted me with my first epigastric hernia repair. It was a great experience!
On two occasions, our medical team visited the leprosy colony in Malek where they welcomed us with song and dance, raising their hands with joy and gratitude, many of which were missing digits as a result of the disease. We watched as some crawled on their knees to gather around us, often with open lesions from dragging their bodies along the ground. We filled basins with water from the Nile and set up different stations where we could wash, debride and dress their wounds. For those who didn't have any sandals, a custom shoe was made from foam booties to protect their feet. We also trained a few of the village leaders and equipped them with the necessary debridement tools and wound care supplies. It seemed surreal walking into a leprosy colony, but it was a beautiful experience.
I feel fortunate to have been trained by NIFA. The suturing training I received has given me the skills and confidence to train others on effective suturing technique here and abroad. I am also grateful for having the opportunity to be a part of Dr. Geelhoed's medical team in South Sudan. I went there, expecting to learn and grow, but this experience has far exceeded my expectations. It has helped me understand what Dr. Geelhoed means when referring to the "gifts from the poor." Everyone has something to offer. And it is possible to learn the most from where you least expect it.
Thank you, NIFA!
See photos and learn much more at the Mission to Heal website.