3-D computer graphics technology has prompted radical changes in industries ranging from construction and manufacturing to fashion and films (think Toy Story vs. The Simpsons).
But nowhere does 3-D technology have such direct impact on human life as in medicine. In this issue we guide you to some fascinating articles about the topic as well as 3-D computer graphic apps for learning about anatomy and physiology.
We also feature a profile on NIFA's Admissions Coordinator, Tanya Nazarov, and our latest collection of RNFA jobs.
NIFA is headquartered in Denver, where the prevailing mood right now is orange! Whether your favorite team is the Broncos or the Sea Hawks, we hope you'll enjoy this month's crossword puzzle. (Go Broncos!)
---
May I Print That for You? 
3-D printing enables the creation of a three-dimensional solid object from a digital model, using a CAD (computer-aided design) rendering of the item and laying down successive layers of material–usually some kind of thermoplastic.
This enables the making of customized medical and dental prostheses as well as providing accurate models of internal organs, bones and skulls for use in pre-operative evaluations.
But even more remarkable is the marriage of 3-D printing with stem cell technology for building body parts from a patient's own cells. Check out the following articles:
---
Grab Your 3-D Goggles and Head for the OR?
Another aspect of 3-D is stereoscopic or three-dimensional film-the kind of movie (e.g., Avatar) that requires you to wear special goggles. This technology has been around much longer, but now surgeons are donning special goggles to perform laparoscopic surgery using 3-D imaging. This article appeared in Forbes just last week: 3-D Surgery Now Playing at an Operating Room Near You.
---
3-D Anatomy and Physiology Apps

Visible Body (R)
offers a series of anatomy and physiology learning products featuring highly detailed, anatomically accurate, 3-D models developed by a team with decades of experience in medical illustration and biomedical visualization. This manufacturer makes several products–all available for iPad, some also available for iPhone, Android, and in versions you can download to your PC or Mac. From general anatomy to specific systems (skeleton, muscle, heart and circulatory, etc.)–a total of 12 titles.
The BioDigital Human (TM)
is a virtual 3D body that brings to life thousands of medically accurate anatomy objects and health conditions in an interactive Web-based platform.
---
Staff Spotlight: Tanya Nazarov 

 

 
Name:
  Tanya Nazarov
City and State:
Denver, CO
Position:
NIFA Admissions CounselorIf you've called the NIFA office in recent months, chances are you've spoken with Tanya.Although you would not know it from her impeccable English, Tanya was born in Russia. Her family came to Long Island, NY, when she was 7 and then moved to Denver while she was in high school.She holds a BA in Business Management/ Communications from Metropolitan State College of Denver. After college, she worked in property management for several years, first as a leasing consultant and more recently in management.
"I knew I wanted to do something different but I didn't know what I wanted to do," she says. "So when I met NIFA's CEO and learned about this job opportunity last May, it was a leap of faith."
Now, several months later, she's glad she made the leap. Every day, Tanya works with prospective students, building rapport and guiding them through the admissions process. The work is challenging and uses her problem-solving skills.
"I get to talk to some amazing people," she says. "They all have their own stories."
Off the job, Tanya has two dogs, Boris, a chihuahua; and Jackson, a cocker spaniel. She likes to play tennis and spend time with her significant other, Marco.
"I'm a pretty laid-back girl," she adds.
---
Perioperative Puzzle: NFL Superbowl "Injuries"  

In this month's puzzle, test your knowledge of football injuries in general and NFL Superbowl injuries in particular.
When you're ready to check your answers, follow this link to see how well you did!
Good Luck!
---
 Job Front
Click here for the
RNFA job posting
s we've collected for you this month!
---
Questions?

Do you have questions about implementing an RNFA team or becoming an RNFA?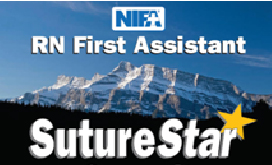 Our continuing education course,
RNFAs, APRNs and Implementing an RNFA Team
, will answer many of your questions. If you need answers more quickly, please see the links below or just call us at 1-800-922-7747. We will be happy to discuss any questions you may have and discuss the benefits to staff, surgeons and administrators of having an RNFA team at your facility.
Prerequisites for becoming an RNFA
---
NIFA Office Hours
Monday-Thursday 7:30am – 5:00pm (Fridays 7:30am – 4:00pm).