From the Editor
Our surgical topic this month is appendectomy, the surgical removal of the appendix. You'll find videos and apps to help you learn about this topic . . . and a few jokes for relaxation.
Read on to learn how you can actually help NIFA send more NIFA-trained RNFAs on medical missions. And you'll also find this month's job listings and our favorite RNFA resources.
This month's student spotlight focuses on Moll Espinas of Phoenix, Arizona.
Enjoy!
Julie Lancaster, Editor
RNFAs Make the Best Missionaries!
Last week, NIFA sent two more RNFA graduates to Ghana with
Mission to Heal
: Victoria Rice-Bean of Shoreline, Wash., and Claudia Vazquez of Fortuna, Calif. (See
Claudia's report
on a previous trip with Dr. Geelhoed to South Sudan.)
Dr. Geelhoed declared, "We'll take one NIFA RNFA for any 10 other surgical practitioners!"
Right now, even if you aren't in a position to go on a medical mission yourself, you can assist in NIFA's newest campaign to help.
Starting July 8, 2013, NIFA will send $1.00 to the Mission to Heal organization for every Facebook Like (up to 6,000 Likes). Visit our Facebook page and help us send more NIFA RNFAs with your Like today!
Learning About Appendectomy
Here are a couple of links that will provide a brief overview and treatment of appendicitis.
Surgical Videos: Appendectomy 
Surgical Jokes
School Doctor: Have you ever had trouble with appendicitis?
Student: Only when I tried to spell it.
– – – – – – – – – –
I had my appendix removed. There was nothing wrong with it, I just did it as a warning to the other organs in my body to shape up or they're out of there.
– – – – – – – – – — – – – – – – – – –
A blonde was having sharp pains in her side. The doctor examined her and said, "You have acute appendicitis."
The blonde says, "That's sweet, doc, but I came here to get medical help."
– – – – – – – – – –
A doctor's phone rings at 2 AM. "Doc, my wife is hurting something terrible. I think it's her appendix."
"I took out your wife's appendix two years ago. Go back to sleep."
Five minutes later, the phone rings. "Doc, I'm sure it's her appendix."
"Did you ever hear of anyone having a second appendix?"
Two minutes later, the phone rings. "Did you ever hear of anyone having a second wife?"
– – – – – – – – – –
One book to another, "You look so much thinner." Second book, "Thanks, I had my appendix removed."
iPad Apps of the Month
Take on the role of a Virtual Surgeon – You are in control as you perform a laparoscopic appendectomy on a patient in this interactive educational game.

Student Spotlight
Name:  Moll Espinas
Credentials:   RN, BSN, CNOR
City and State:  Phoenix, AZ
Current Job:  RN3 at Mayo Clinic Hospital 
Why did you want to become a nurse?
I grew up in a third world country where I witnessed so many poor sick people who had no access or very limited access to health care and were trying to survive on a daily basis. That's what motivated me to become a nurse and I promised to myself that I will be taking care of them someday. Taking care of the sick gives me a feeling of  satisfaction and accomplishment. To this day I still help them by going on medical missions.
Where did you get your RN training?
In the Philippines.
Why did you decide to become an RNFA?
The OR always interests me.  I've been a scrub and circulating nurse for a long time; now I want to further my training and advance my other nurses from different states.      
Where have you gone on medical missions?
I usually go to the Philippines for medical missions. The last time I went was in 2006 when I was still in New York. Now that I'm here in Arizona, there is a group that does medical missions and I'm hoping to get involved again.  
Questions?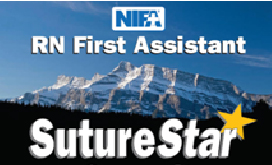 Do you have questions about implementing an RNFA team or becoming an RNFA?
Our new continuing education course, RNFAs, APRNs and Implementing an RNFA Team, will answer many of your questions. If you need answers more quickly, please see the links below or just call us at 1-800-922-7747. We will be happy to discuss any questions you may have and discuss the benefits to staff, surgeons and administrators of having an RNFA team at your facility.

Prerequisites for becoming an RNFA
Surgical Continuing Education
Total Abdominal Hysterectomy Laparoscopic Assisted Vaginal Hysterectomy (LAVH)
Robotic-Assisted Vaginal Hysterectomy
Carotid Endarterectomy
Abdominal Aortic Aneurysm
Vessel Harvesting
Cesarean Section
–and our latest, Robotic Surgery Training!
Call 1-800-922-7747 for details!
NIFA Office Hours
Monday-Thursday 7:30am – 5:00pm (Fridays 7:30am – 4:00pm).