From the Editor
This month's topic is surgical site infections (SSI) and we provide some professional resources and videos below for you to learn from.Coincidentally, last week I ran across a fascinating, though non-scientific, article that appeared in The New Yorker on March 4, 2013, Hands Across America by David Owen. It tells the tale of the emergence of hand sanitizer and its expanding role, not just in health care but in many settings in our modern world.
Our featured Student Profile is Kristen Barklow, NP.
You'll also find our latest collection of RNFA jobs and some favorite resources. Enjoy!
Julie Lancaster
Surgical Site Infections
 In 1847, Ignaz Semmelweis noticed that women in the hospital where he worked in Vienna were more likely to die in childbirth if their attending physicians had come directly from performing autopsies. He imposed a hand-sanitation regime at the hospital and childbirth mortality rates plummeted, but the broader medical community rejected his ideas.
It wasn't until the 1860s that Joseph Lister, a British surgeon, pioneered sterile surgery based on Louis Pasteur's work on the germ theory of disease.
Great progress has been made in preventing surgical site infections (SSI) since then, but according to a January 2014 report from the Centers for Disease Control (CDC), "SSIs remain a substantial cause of morbidity, prolonged hospitalization, and death. SSI is associated with a mortality rate of 3%, and 75% of SSI-associated deaths are directly attributable to the SSI."
Yet the majority of SSIs are preventable.
One of the tactics being employed by CDC's National Healthcare Safety Network infection tracking system is surveillance. "Surveillance of SSI with feedback of appropriate data to surgeons has been shown to be an important component of strategies to reduce SSI risk," the CDC report states. "A successful surveillance program includes the use of epidemiologically-sound infection definitions and effective surveillance methods, stratification of SSI rates according to risk factors associated with SSI development, and data feedback."
 The video pictured here,
Surgical Site Infections (SSI) Surveillance with Case Studies
, is for everyone who is collecting or reporting NHSN SSI Surveillance. It is a course that reviews the protocol, definition, and key terms associated with SSI, including SSI Surveillance changes, new definitions and protocols for 2014.
This I Vow –
And So Should You! 
This
hand hygiene video
was the winning video in the film festival at the 41st Annual Conference of the Association for Professionals in Infection Control and Epidemiology last month in Anaheim, CA. It was created by Louisville, Kentucky-based Norton Healthcare.
Nurse Firing – Hazards of Social Media in Hospitals
Earlier this month, an ER nurse at New York Presbyterian Hospital was fired after seven years in the ER for posting a photo to Instagram.According to a story by Liz Neporent on ABC News, the photo was of a messy but vacant trauma room in which a man had been treated after being hit by a subway train. "[This nurse] is certainly not the first medical professional to get herself into trouble on social media," Neporent states, citing a few other cases. Read more and see the news video here.
Student Spotlight
Name: 
Kristen Barklow

Credential:
NP

Student Status:
  Current Student
City and State:
New Brighton, MN
Current Job:  Neurosurgical NP, Fairview Southdale Hospital, Edina, MN
Why did you want to become an RN?
I became an RN because I wanted to help people and have always been fascinated with medicine and health care.  I liked the holistic nature of nursing and found it to be a good fit.
Where did you get your RN training?
I have a two-year ASN from Normandale Community College (Bloomingdale, MN), completed my BSN at Metropolitan State University (St. Paul, MN) and my MSN/NP in Los Angeles at UCLA.
Why did you decide to become an RNFA?  
The Neurosurgical position that I currently hold did not require an RNFA, but in researching my NP job description and the role of an RNFA, I decided that it would provide me with a valuable skill set that I would use on the job.
What was one thing you learned in your RNFA training that was unexpected?
I was surprised and delighted to see the number of nurse practitioners in my course. It helped me feel like I was not the only NP who wanted to be in the surgical world. Also the instruction throughout the course and the variety of knots and closing techniques were wonderful. I have already applied my learning at work.
Job Front
Click here for the
RNFA job postings
we've collected for you this month!
Questions?

Do you have questions about implementing an RNFA team or becoming an RNFA?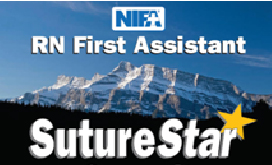 RNFAs, APRNs and Implementing an RNFA Team
will answer many of your questions. If you need answers more quickly, please see the links below or just call us at 1-800-922-7747. We will be happy to discuss any questions you may have and discuss the benefits to staff, surgeons and administrators of having an RNFA team at your facility.
Prerequisites for becoming an RNFA
Surgical Skills Workshops
NIFA Office Hours
Monday-Thursday 7:30am – 5:00pm (Fridays 7:30am – 4:00pm).