From the Editor
Our surgical topic this month is cholecystectomy, the surgical removal of the gallbladder. Read on for videos and apps to help you learn more about cholecystectomy and test your knowledge with a crossword puzzle.
You'll also find an article about how to document student RNFAs on the OR record, along with job listings and our favorite RNFA resources.


And this month's student spotlight is Trista Turgeon, BScN, RN, CPN(c), of Banff, Alberta, Canada.
Enjoy!
Julie Lancaster, Editor
How to Document Student RN First Assistants on the OR Record
Have you ever run into questions when attempting to document student RNFAs on the OR record? This article from AORN Journal Online is normally available only to AORN members and Journal subscribers, but with AORN's permission we are linking you directly to the article.
An RN who recently completed the classroom portion of an RN first assistant (RNFA) course is now completing the clinical portion. How do we document this person and the name of the preceptor on the patient's record?
Answer
The name, role, and credentials of all people involved in the care of the patient and any other people in the OR who are indirectly involved in the patient's care must be documented in the patient record. The method for documenting a student RNFA should be explained in the documentation policy and procedure for the facility. The procedure to follow . . .  . . . 
read more
.
Learning About Cholecystectomy    
Between 500,000 and 600,000 cholecystectomy procedures are done every year in the US, the majority of them laparoscopic cholecystectomy ("lap-chole"), which was first performed in the 1980s.
Here are two general references on cholecystectomy:
Surgical Videos: Laparoscopic Cholecystectomy  
Perioperative Puzzle:

Cholecystectomy
With this month's crossword puzzle you can test your knowledge of cholecystectomy.
When you're ready to check your answers, follow this link to see how well you did!
Good Luck!
iPad Apps of the Month
Following are some apps that may be helpful in learning more about cFor iPad:
In this app, you can see 3D representations of the pancreas and gallbladder from all angles. By touching the pins, you can focus specifically on the part you want to study, with accompanying illustrations, graphics, photos and detailed information about the area. You can also rotate each part in all directions.
For iPhone, iPod Touch, or iPad
:
by Modality Inc. The classic guide to general surgery procedures is now available for Apple handheld devices.  Zollinger's applications allow you to access step-by-step instructions and superb line drawings for numerous general surgical procedures. Many procedures also include fully narrated, slideshow presentations outlining each step in the procedure, from Intro and Indications through Post-Operative Care. This app includes instructions for 20 procedures, including a variety of· Cholecystectomy procedures (Hasson Open Technique, Laparoscopic, Retrograde Method, Partial Cholecystectomy, Choledochoplasty, etc.).
 Student Spotlight
Name:  Trista Turgeon
Credentials:   BScN, RN, CPN(c)
City and State:  Banff, Alberta, Canada
Current Job:  Staff OR nurse, including the roles of scrubbing, circulating and charge, at Banff Mineral Springs Hospital.  
Why did you want to become a nurse?  
 I don't ever really remember saying to myself, "I want to be an RN" but the idea of it being such a versatile job with many avenues to go down really influenced me. I have done a lot of traveling in the past so having a job that I could take with me anywhere in the world was also appealing. 
 Where did you get your RN training?
At the University of Alberta in Edmonton.   
 Why did you decide to become an RNFA?  
I wanted to become an RNFA to play an  expanded role in the OR. I was getting bored with doing the same surgeries day in and day out, so I wanted to change my role to keep myself interested.  
What was one thing in the SutureStar workshop you attended that was unexpected or particularly helpful? 
In Banff we only do plastics and ortho so I really enjoyed getting the hands-on experience of the different surgical specialties during the lab week. It was all new to me and will be extremely helpful in my RNFA career in the future. 
Questions?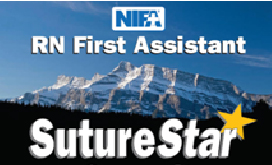 Do you have questions about implementing an RNFA team or becoming an RNFA?
Our new continuing education course, RNFAs, APRNs and Implementing an RNFA Team, will answer many of your questions. If you need answers more quickly, please see the links below or just call us at 1-800-922-7747. We will be happy to discuss any questions you may have and discuss the benefits to staff, surgeons and administrators of having an RNFA team at your facility.

Prerequisites for becoming an RNFA
Surgical Continuing Education
Implementing an RNFA Team at your Facility
Total Abdominal Hysterectomy Laparoscopic Assisted Vaginal Hysterectomy (LAVH)
Robotic-Assisted Vaginal Hysterectomy
Carotid Endarterectomy
Abdominal Aortic Aneurysm
Vessel Harvesting
Cesarean Section
–and our latest, Robotic Surgery Training!
Call 1-800-922-7747 for details!
NIFA Office Hours
Monday-Thursday 7:30am – 5:00pm (Fridays 7:30am – 4:00pm).