From the Editor    
We're heading into the time of year when more babies are born than in any other season. (In 2010, the month with the most babies born was September, with August, June and July, in that order, the next most popular birthday months, according to BabyCenter.com).
And Certified Nurse Midwives (CNM – one of the four Advanced Practice Registered Nurse titles designated by the new LACE study) are committed to their happy and healthy outcomes!
This month we celebrate CNMs and the great reception NIFA had at the recent workshop we presented at the Annual Meeting and Exhibition of the American College of Nurse-Midwives (ACNM) last month.
You'll also find a video, apps, a puzzle, and some summer reading/viewing
suggestions featuring midwives. Enjoy!
Julie Lancaster
NIFA Attends CNM Meeting and Exhibition
There were more than 2000 people in attendance at the recent Annual Meeting and Exhibition of the American College of Nurse-Midwives (ACNM), held in Denver in May.
NIFA presented a wound closure workshop focusing on eight surgical skills related to women's health.
And in the NIFA booth was a pelvis simulator, complete with uterus, placenta, retractor ring and baby. One of the attendees at our booth performed a C-section demonstration, with the happy outcome shown here. Click here for more pictures.
Interview with Jessica Anderson, MSN, CNM, WHNP-BC
At the ACNM meeting, NIFA's suture workshop attracted more than 40 new graduates and midwives returning to active practice. The show was a huge success and verified that CNMs are a rapidly growing segment of women's health and ones we'll be seeing more of in our operating room suites.
This week, I had an informative telephone interview with Jessica Anderson, MSN, CNM, WHNP-BC, Service Director and Senior Instructor for the Center for Midwifery at the University of Colorado Denver College of Nursing and part of the ACNM Board.     Click here for the interview.
Cesarean Section Video
Watch doctors at Shawnee Mission Medical Center in Merriam, Kansas, conduct a complete C-section on this BroadcastMed / OR Live video.
According to the Centers for Disease Control, every year more than 1 million women in the United States deliver by Cesarean Section. This webcast highlights the surgical techniques used to open and close the womb.
A MUST HAVE Medical Device for Performing C-sections
C-Safe is a surgical instrument that replaces standard blades, designed to reduce the risk of nicks or cuts to the fetus during Cesarean section procedures. Read more and see product videos at http://www.csafe.us/.
Perioperative Puzzle: CNM Surgery (C-Section)
In this month's puzzle, you can test your knowledge of terms related to Cesarean section surgery.
When you're ready to check your answers, follow this link to see how well you did!
Good Luck!
 iPhone / iPad Apps 
iBirth Pregnancy App. A pocket reference guide to greater health and deeper comfort as you prepare to birth your baby. The topics covered apply to all women regardless of birthing preference–natural, medicated, or cesarean. Nutrition guides, videos of labor positions, contraction timer, daily inspiration for the mom.
Certified Nurse-Midwife (CNM) Exam Prep helps you prepare for the CNM exam on the go. Features include:
200+ quality questions with detailed explanations
Study mode: get instant answers and useful explanation, study at your own pace; support sound effect, remove familiar questions to narrow down your target and concentrate only on your weakness
Test mode: simulate the real exam experience, get detailed graphic results and scoring;review your exam questions with answers and explanations.
No data connection required, all data stored on device
 TV Series
Call the Midwife is a BBC period drama series based on the memoirs of Jennifer Worth and set in east London in the 1950s. The first series of six episodes premiered in the UK on 15 January 2012. The show achieved very high ratings in its first series, making it the most successful new drama series on BBC One since 2001.
The plot follows newly qualified midwife Jenny Lee and the work of midwives and the nuns of Nonnatus House, a nursing convent, part of an Anglican religious order, coping with the medical problems in the deprived Poplar district of London's desperately poor East End in the 1950s. The Sisters and midwives carry out many nursing duties across the community. However, with between 80 and 100 babies being born each month in Poplar alone, the primary work is to help bring safe childbirth to women in the area and to look after their countless newborns.
Good Read

The Midwife of Hope River: A Novel of an American Midwife, by Patricia Harman, has received ratings of 4.5/5 and is available as a book and audiobook. Here's a video about it and you can find the book here.
 Questions?
Do you have questions about implementing an RNFA team or becoming an RNFA?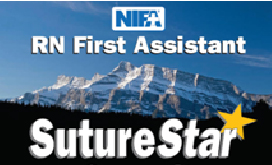 RNFAs, APRNs and Implementing an RNFA
Team
will answer many of your questions. If you need answers more quickly, please see the links below or just call us at 1-800-922-7747. We will be happy to discuss any questions you may have and discuss the benefits to staff, surgeons and administrators of having an RNFA team at your facility.
NIFA Office Hours
Monday-Thursday 7:30am – 5:00pm (Fridays 7:30am – 4:00pm).