What's your surgical specialty? This month we focus on some cool knee surgery (and general anatomy) resources.
We also welcome new NIFA employee Patrick Toepel.
In our Student Spotlight, we present Mary Roberts of Costa Mesa, CA.
And of course the latest job listings and favorite links.
Enjoy!
Julie Lancaster, Editor
Knee Arthroscopy Resources
In these days of vast knowledge being shared on the Internet, patients are arriving for surgery much more educated about their procedure than in years gone by. It is important for perioperative staff to be able to identify the validity of information that the patient has acquired and answer any remaining questions they may have.
At the following link you will find some basic information you can share with your patients:
Video:  Knee Pain and the Weekend Warriors
Renowned orthopaedic surgeon Dr. Carlos Lavernia and Dr. J. Pieter Hommen, team physician for Miami FC, perform two surgeries side by side: a small-incision total knee replacement and a knee arthroscopy at Mercy Hospital in Miami, FL. View the live webcast and experience firsthand the use of new technologies and techniques used to perform less invasive, life-enhancing knee surgeries.
www.orlive.com is an excellent resource for both patients and perioperative staff to view narrated surgeries.
Surgical Jokes
I had an elderly female patient who had everything but the kitchen sink in her purse. She didn't want her "regular doctor" called about this ER visit; she liked her bone doctor better. But she couldn't remember his name. She searched and searched through her overflowing purse, saying to herself "Arthur, Arthur, Arthur somebody. Oh! here it is! Dr Arthur Pedic!"
A business executive injured his leg skiing one weekend. By the time he got home Saturday, the leg was very swollen and he was having difficulty walking, so he called his physician at his home. The doctor told him to soak it in hot water. He tried soaking it in hot water but the leg became more swollen and painful. His maid saw him limping and said, "I don't know, I'm only a maid, but I always thought it was better to use cold water, not hot, for swelling." He tried switching to cold water and the swelling rapidly subsided. On Sunday afternoon he called his Dr. again to complain. "Say, what kind of a doctor are you anyway? You told me to soak my leg in hot water and it got worse. My maid told me to use cold water and it got better." "Really?" answered the doctor, "I don't understand it. My maid said to use hot water."
Employee Spotlight
Meet Patrick Toepel -NIFA's newest IT "nerd!"
I am the oldest of five in the Toepel family. I was lucky enough to be born into a military family and got to travel the world at a young age, I visited most of Asia, Europe, and the US by the age of 16. Outside of work you can usually find me spending time with my lovely wife of two years, making silly voices for my pet dog, or playing "Call of Duty" with my brother.
Yes, I am a nerd. I was taught how to build applications and websites by a close friend I worked with who later went on to work for Yahoo, which allowed me to fill in his role later. I knew the tech industry is where I wanted to be so I taught myself and consumed as much content about it as possible. I was given the opportunity to do a competitive internship at Return Path in Boulder Colorado–they are known for stopping spam across the world–and I used this time to fine-tune my programming skills that I would use later. My expertise is in PHP, JavaScript, SQL, HTML5 and other necessary web programming languages. I have built huge enterprise software applications and  designed small business websites for startups. You name it–I've probably done it.
Besides being a "computer guy," I do West Coast swing (partner dancing). I hold the state championship record in Colorado, I compete at conventions across the world with my wife. I am excited about working for a nurse training company like NIFA and can't wait to teach the offices how to boogie! 🙂
iPad Apps of the Month
All the following apps are available at the Apple store. Click on the image or the name to go there.
KneeDecide by Orca Health is an iPhone / iPad app that provides basic information about knee anatomy, conditions, best practices, solutions and finding specialists.
Muscle and Bone Anatomy 3D
by RealBodywork is a multi-use reference for anyone interested in the human musculo-skeletal system. Featuring five different ways to learn about the body: The VIEWER, ACTIONS, 3-D MODELS, six types of QUIZZES and MEDIA.
Student Spotlight
 Name:  Mary E.
Roberts
Credentials:  ACNP-BC, MSN, RN, CCRN
City and State:  Costa Mesa, CA
Current Job: Cedars-Sinai Medical Center, Los Angeles, CA, Cardiovascular Surgery Nurse Practitioner
Why did you want to become a nurse? When I was 12 years old my stepmother was hit by a drunk driver while coming to pick up my sister and me from basketball practice. She was in critical condition and remained in ICU for weeks. During this time I saw nurses that were compassionate, loving, and overall amazing at their job and others that were not. From that moment on, I decided that I was going to become a nurse and dedicate my life to helping others who were in need. Even after seven years of nursing, I still love going to work! And as the saying goes, "If you love what you do for work, then you never work a day in your life."
Where did you get your RN training?
Undergraduate: Carson-Newman College, Jefferson City, TN. Master's Degree: California State University, Los Angeles, CA.
Why did you decide to become an RNFA?
I have always been in ICU, but have never had the opportunity to work in the OR. With my new job, our heart transplant and VAD program is growing so rapidly, the surgeons are requiring more RNFAs in the OR. Primarily, I chose to become an RNFA in order to help open, close and harvest veins for coronary artery bypass grafts (CABG).
What is one thing you learned in your RNFA training that was particularly helpful?
Picking up the "palming" technique. I was convinced that I needed more time and experience to learn how to manipulate the needle driver but by Wednesday I was suturing in half the time because of this technique. Also, I never expected to have such amazing instructors such as Dean and Troy. They took the extra time if you had questions or needed help suturing for your specialty. For example, Dean spent an extra 20 minutes giving me tips on closing the chest, which was very helpful.
Questions?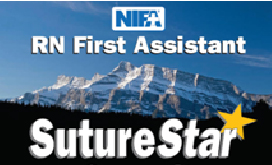 Do you have questions about implementing an RNFA team or becoming an RNFA? Our new continuing education course, RNFAs, APRNs and Implementing an RNFA Team, will answer many of your questions. If you need answers more quickly, please see the links below or just call us at 1-800-922-7747. We will be happy to discuss any questions you may have and discuss the benefits to staff, surgeons and administrators of having an RNFA team at your facility.
Prerequisites for becoming an RNFA Surgical Skills Workshops
Surgical Continuing Education
NIFA's current CE offerings include online courses in Cesarean Section, Vessel Harvesting and Carotid Endarterectomy.
NIFA Office Hours
Monday-Thursday 7:30am – 5:00pm (Fridays 7:30am – 4:00pm).