From the Editor
Hysterectomy is the second most common surgery for women in the United States (the most common is childbirth by Cesarean section delivery). In fact, every 10 minutes, 12 hysterectomies are performed in the US. The leading reasons for hysterectomy in the US are fibroid tumors, endometriosis and prolapsed uterus, although there are also many other less common reasons. (Sources: Centers for Disease Control and Prevention and National Uterine Fibroids Foundation.)
In this issue you'll find several resources to help you learn more about hysterectomy, and you can test your knowledge with a crossword puzzle.
This month's student spotlight is Vicky Whitley, RN, CNOR, from Osteen, FL.
Enjoy!
Julie Lancaster, Editor
Surgical Video: Hysterectomy
This 16-minute video
provides excellent descriptions and close-up visuals as the surgeon,
Lanalee Araba Sam, MD
, of Broward Health, Imperial Point, Ft. Lauderdale, FL, performs a hysterectomy using the da Vinci Surgical System.
Videos on Breast Cancer and Mastectomy:
Check out these new techniques and treatments for breast cancer patients. New York Presbyterian has an informative array of videos regarding breast cancer and mastectomy including: Breast and Nipple Sparing Techniques
Perioperative Puzzle: Hysterectomy
Test your knowledge of hysterectomy with this crossword puzzle.
When you're ready to check your answers follow this link to see how well you did!
Good Luck!
iPad Apps of the Month
All the following apps are available at the Apple store. Click on the image or the name to go there.
Learning Surgical Instruments
.Designed for nurses, med students and surgical technologists. You can read about surgical instruments by specialty and then test your skills with the quizzes. Designed by James Nideffer.
Contemporary OB/GYN. A peer-reviewed journal that translates key advances in OB/GYN into excellence in day-to-day practice. Critical thinking from top-tier academic physicians, evidence-based insights, illustrated articles that help OB/GYNs "in the trenches" provide optimal patient care.
iPad App:
iPad version of Clinical Obstetrics and Gynecology, a peer-reviewed journal providing complete symposia on timely topics of interest in the field. Prominent guest editors solicit contributions on key clinical topics to practicing physicians. Procedures, current clinical problems, medical and surgical treatments and effective diagnostic aids are all carefully reviewed in original articles. Free access to full-text articles for a limited time.
Podcasts (available through iTunes):
Gynecology Tests and Procedures. A series of 22 free podcasts from the Medical University of South Carolina highlighting gynecological tests and procedures.
Student Spotlight
Name: Vicky Whitley
Credentials: RN, CNOR
City and State: Osteen, FL
Current Job: Surgical Services Preceptor, Central Florida Regional Hospital, Sanford, FL
Why did you want to become a nurse? My mother was a nurse and was in a severe car accident when I was 21. I stayed with her at the hospital and that is when I decided to become a nurse. I wanted to care for patients and maintain their dignity better than what I saw my mother receive during her stay.
Where did you get your RN training?
I earned my RN at Daytona State College in Daytona Beach, Florida in 1984. I have worked the last 28 years at Central Florida Regional Hospital in Sanford, Florida. I was a staff nurse for 15 years on a medical/surgical/oncology floor then transferred to the endoscopy department for 8 years and in 2008 I moved to the operating room. I took the AORN perioperative 101 course and since my first day in the OR I told my manager that I wanted to become an RNFA. The operating room has been my most challenging nursing work so far. There is such a variety of equipment and different cases to master, but it has also been the most rewarding. I love nursing and can't imagine any other job.
Why did you decide to become an RNFA?
I went on my first medical mission trip in January of 2010 to Haiti after the earthquake and realized that in order to be more effective I needed to earn my RNFA. When I am assisting in the operating room I feel like I have "come home." I always strive for excellence in everything that I do and that is why I chose NIFA for my RNFA training.
I completed my SutureStar Workshop in February in Denver. I am very pleased with the experiences that I have had so far with NIFA. The teachers at the workshop, Dean Parsons, Troy Batchelor and Andrea Bakas, were very professional and above reproach. They were patient and remained available to us until the last person left. We were taught many additional, practical skills. If we didn't have a skill mastered they would stay with us until we had confidence. I am excited and looking forward to what the future will bring in my new career as an RNFA.
Questions?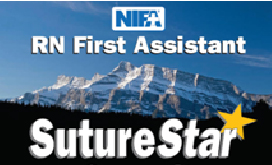 Do you have questions about implementing an RNFA team or becoming an RNFA?
Our new continuing education course,
RNFAs, APRNs and Implementing an RNFA Team
, will answer many of your questions. If you need answers more quickly, please see the links below or just call us at 1-800-922-7747. We will be happy to discuss any questions you may have and discuss the benefits to staff, surgeons and administrators of having an RNFA team at your facility
.

Prerequisites for becoming an RNFA
Surgical Continuing Education
Surgical Continuing Education
Implementing an RNFA Team at your Facility
Total Abdominal Hysterectomy Laparoscopic Assisted Vaginal Hysterectomy (LAVH)
Robotic-Assisted Vaginal Hysterectomy
Carotid Endarterectomy
Abdominal Aortic Aneurysm
Vessel Harvesting
Cesarean Section
–and our latest, Robotic Surgery Training!Call 1-800-922-7747 for details!
NIFA Office Hours
Monday-Thursday 7:30am – 5:00pm (Fridays 7:30am – 4:00pm).