From the Editor
As we head into one of the busiest times of the year for many of us, our hopes and expectations about how to "do the holidays right" can start piling on the stress. Which is no way to treat our precious bodies and minds.So rather than bring you surgical tips this time, we're encouraging you to just lighten up and "relax your inner Martha" (see below). Hope you can take a few moments to enjoy the resources we've gathered for you.
 And in our Student Spotlight, we're pleased to present
Molly Lee
, who attended a recent Suture
Star
Summit in Denver.
Enjoy!
Julie Lancaster, Editor
Inspiration for a deessed holiday season
Here are some inspirational quotes to lighten the stress of the holidays:
*Maya Angelou: They may forget your name but they will never forget how you made them feel.
*?Anatole France: To accomplish great things, you must not only act, but also dream, not only plan, but also believe.
And if you're thinking of becoming an RNFA in 2013, think of this while you contemplate the opportunities:
*Benjamin Franklin: Genius without education is like silver in the mine.
*Dr. Carl Sagan: Advances in medicine and agriculture have saved vastly more lives than have been lost in all the wars in history.
*Florence Nightingale: I attribute my success to this – I never gave or took any excuse.
Tips for Reducing Holiday Stress
iPad App of the Month
Stress Check:
Stress Check is a stress test developed by clinical psychologists with expertise in stress management. This research-based assessment tool provides users with an overall stress score that illuminates their current level of stress. After receiving their overall score, users can deepen their insight by examining the specific areas their stress affects them (interpersonal, physiological, situational, control). Available at the Apple Store.
Student Spotlight

Name:
Molly Lee

Credentials:
RN, BSN
Current Job:
Nurse Clinician II in the OR at Advocate BroMenn Medical Center, Normal, IL
Path to RN:
I never planned on becoming a nurse until two weeks before I started college. My grandmother got sick and had an exploratory surgery, but experienced complications and was sent to an ICU. Despite the difficulty of watching her condition deteriorate, I found myself interested in everything in the hospital. One of the nurses was very kind and answered any question I asked. She was also a traveling nurse and I was very excited by a career that would give me a chance to travel. My family decided to disconnect my grandmother's life support, and during the intense emotion of the situation I had a revelation that I could be and wanted to be a nurse. I got my BSN from Mennonite College of Nursing at Illinois State University.
How did you decide to become an RNFA?
I had never heard of the role, but I was looking for a new job and spoke with a surgeon who wanted to hire someone who could both help in his office and the OR. He asked if I had considered going back to school for my Nurse Practitioner or RNFA. I said, "What's an RNFA?" So off to Google I went and found the NIFA website. Since I was able to start the program immediately, and with the coursework being self-paced, I signed up. I was especially sold because of the hands-on practice for suturing, the option to do the CNOR prep with the RNFA coursework, and the opportunity for humanitarian missions. Now that I know about the role, I feel like my nursing practice as an RNFA in the OR is much more well-rounded and that there's nothing I can't do. The education and suture training have given me the confidence to feel like I belong in the OR and that the OR is where I want to be for the rest of my nursing career.
 Surgical Jokes
A man goes to a doctor for a routine physical. The nurse starts with the basics.
"How much do you weigh?" she asks.
"Oh, about 165." he says.
The nurse puts him on the scale. It turns out that his weight is 187. The nurse asks, "Your height?"
"Oh, About 6 feet," he says.
The nurse checks and sees that he's only 5 feet 8 3/4 inches. She then takes his blood pressure, and it's very high.
"High!" The man explains, "Well, what did you expect? When I came in here, I was tall and lanky. Now, I'm short and fat!"What's the difference between a nurse and a nun?
A nun only serves one God.Doctor: "Nurse, how is the little boy who swallowed those quarters doing?"
Nurse: "No change yet."What's the difference between a surgeon and a puppy?
If you put a puppy in a room by itself for an hour, it'll probably stop whiningDoctor: "Did you take the patient's temperature?"
Nurse: "No. Is it missing?"
Surgical Continuing Education

Questions?
Do you have questions about implementing an RNFA team or becoming an RNFA?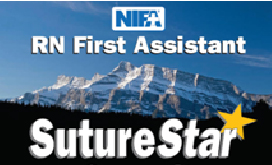 Try the following links. If you do not find the answers you need, please call us at 1-800-922-7747. We would be happy to discuss any questions you may have and discuss the benefits of having an RNFA team–you will please staff, surgeons and administrators!