From the Editor
November is American Diabetes Month®, according to the American Diabetes Association–in fact, they've registered the phrase as a trademark. Other organizations, including the JDRF Foundation and the National Diabetes Education Program, a program of the U.S. Department of Health and Services, call it National Diabetes Month.
But whatever you call the month publicizing it, diabetes mellitus is an important disease to know more about.
First, because it affects 9.3% of the population, according to 2014 statistics from the Centers for Disease Control and prevention.
And second, because Type 2 diabetes, which accounts for 90% to 95% of all diagnosed cases of diabetes, can be often prevented or managed through healthy food choices, physical activity and weight loss (although insulin or oral medication also may be necessary).
In this issue we bring you some information about diabetes, particularly from a perioperative management perspective, a slideshow of a living-donor nephrectomy, and diabetes apps.
This month's Graduate Spotlight focuses on Jazmin Kazravan, RN, BSN, RNFA, MBA. As a teenager in war-torn Iran in the 1980s, she started helping orphans in her city and eventually established her own nonprofit foundation serving orphans globally.


And of course you will find the latest job listings we've collected for you as well as other useful resources.
Enjoy!
Perioperative Management of the Diabetic Patient
Here are some interesting (and somewhat preventable) statistics about surgery on a diabetic patient:
The American Diabetes Association conservatively estimates that 12-25% of hospitalized adult patients have diabetes mellitus (DM).
An estimated 25% of diabetic patients will require surgery. Mortality rates in diabetic patients have been estimated to be up to 5 times greater than in nondiabetic patients, often related to the end-organ damage caused by the disease.
Infections account for 66% of postoperative complications and nearly one quarter of perioperative deaths in patients with DM.
The above statistics are from the article "Perioperative Management of the Diabetic Patient" by Mira Loh-Trivedi, PharmD, Clinical Pharmacy Specialist, Surgical Intensive Care Unit, Rush University Medical Center, reported on Medscape.com. The article goes on to cover such topics as physiology of glucose metabolism, metabolic response to anesthesia and surgery and methods of achieving glycemic control. Read more.
Click here for a chart from the article mentioned above, showing adult diabetic complications, potential complications and therapeutic considerations/strategies.
And here's another resource, this one written by health care professionals in the United Kingdom, providing information about the risks and complications of diabetes mellitus, periop management and emergency situations.
Surgical Slideshow:
Laparoscopic Living Donor Nephrectomy for Kidney Transplantation
This presentation on Websurg.com by Vincent Bettschart, MD, and François Mosimann, MD, offers a step-by-step explanation covering all aspects of the surgical procedure used for the management of kidney transplantation.
It includes detailed drawings, photographs and information on operating room setup, position of patient and equipment, instruments used, and the technical key steps of the surgical procedure, such as left nephrectomy, opening of space, left vascular approach, preparation of the ureter, etc.
Click here to watch the presentation. Note: Websurg.com does require viewers to set up a free account; however, it is packed with valuable step-by-step surgical videos and resources.
Diabetes Apps
For health care professionals:
Miniatlas Diabetes Mellitus – This app helps physicians and nurses explain to patients the anatomy, physiology and pathology related to their disorder. For iPhone, iPad or iPod touch.
American Diabetes Association (ADA) Standards of Care – The most up-to-date resource for clinicians, dietitians and educators on the treatment of diabetes. Includes the ADA standards for diagnosing and treating diabetes, nutrition recommendations and principles, and valuable guidelines on managing diabetes and its complications in various settings. For iPhone or iPad.
And here are a couple of apps that nurses can suggest to patients to aid their knowledge, control and tracking of diabetes.
Diabetes Companion – Features videos from the award-winning dLifeTV show, gives users expert answers to their questions, lets them look up foods and healthy diabetes-friendly recipes, and track and manage blood glucose levels. For iPhone, iPad or iPod touch.
Glucose Buddy – Diabetes logbook manager w/syncing, blood pressure, weight tracking. Users manually enter glucose numbers, carbohydrate consumption, insulin dosages and activities, then view all their data on their free glucosebuddy.com online account. For iPhone, iPad or iPod touch.
Graduate Spotlight: Jazmin Kazravan
"I do anything and wear many hats to provide for my children worldwide."
Jazmin Kazravan, RN, BSN, RNFA, MBA, a 2008 graduate of NIFA's RNFA program, has an exceptional story–and enough energy for three people.
Living in Miami, FL, she is President and CEO of Aria Surgery Center and Woman Health Care Center. She also works as a part-time circulating OR nurse in the University of Miami Hospital's Department of Surgery.
She has invented several pieces of surgical equipment and has received a patent on one of them so far.
She's also a part-time Realtor and broker, with licenses in Florida, Georgia and the Dominican Republic.
But her real passion is working with orphans. In 1986 she founded a charity, Orphans World Wide, Inc. (note: the URL is orphansglobal.org), that helps orphans in many different countries in different ways. From 1986 to 2014, Jazmin, her younger sister Dr. Samira Khazravan, her brother Sam Kazran, and the rest of her family were the sole supporters of the charity. Now, for the first time, the charity is reaching out to the public for donations and volunteers to help keep the work going.
Job Front
Click here for the RNFA job postings
we've collected for you this month!
Questions?

Do you have questions about implementing an RNFA team or becoming an RNFA?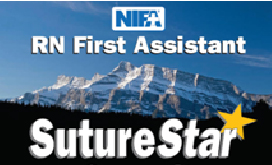 RNFAs, APRNs and Implementing an RNFA Team
will answer many of your questions. If you need answers more quickly, please see the links below or just call us at 1-800-922-7747. We will be happy to discuss any questions you may have and discuss the benefits to staff, surgeons and administrators of having an RNFA team at your facility.
Prerequisites for becoming an RNFA
NIFA Office Hours
Monday-Thursday 7:30am – 5:00pm (Fridays 7:30am – 4:00pm).