From the Editor
This month we're relaxing our focus on surgical topics and considering something even stranger . . . even more unsettling . . . even spookier: Halloween!
And this month's Student in the Spotlight is Rachel Dudley, RN, of Colon, Michigan.
Enjoy!
Julie Lancaster, Editor
Cat photo by Sašo Tušar on Unsplash
---
Truth Stranger than Fiction?
These CNN videos are worth the watch.
Can a man survive without taking a breath for a month, and six months later have his sights set on running a marathon?  Watch.
Will horses eat fingers? Can fingers be regrown? Watch.
---
Pregnant Boy or Fetus in Fetu? Watch.
Can doctors grow a functioning body part on another part of your body?
---
Medical Breakthrough with New Prosthetic:
Man controls leg with his thoughts!

---
Halloween Jokes
What room in the house does a ghost not need?
The living room!
Why are ghosts so bad at lying?
Because you can see right through them!

What is a vampire's favorite fruit?
A nectarine!
---
Student Spotlight
City and State:  Colon, MI
Current Job:  RNFA Trainee, Borgess Medical Center, Kalamazoo, MI    
Why did you want to become a nurse?  I was a medical assistant and loved it and wanted to be able to do more with the patients. Becoming a RN just seemed like the next logical step!!!!
Where did you get your RN training? 
Glen Oaks Community College, Centreville, MI
Why did you decide to become an RNFA?    
I worked at a small community hospital before my current job where you did everything, so I scrubbed some and loved it.  I knew that I wanted to continue in the scrubbing role so becoming a RNFA was perfect!
What is one thing you found particularly useful in the training?      
Honestly, how much I learned in my suture class, that made me feel much more at ease when I started suturing at work.  My instructors, Dean and Troy, were amazing and made class so much fun!     
What are your kids going to be for Halloween?
My 10-year old boy is going to be a zombie and my 6-year-old boy is going to be a Teenage Mutant Ninja Turtle. My 20-year old is at college–who knows what he'll be?
---
Questions?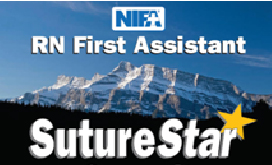 Do you have questions about implementing an RNFA team or becoming an RNFA?
Our continuing education course, RNFAs, APRNs and Implementing an RNFA Team, will answer many of your questions. If you need answers more quickly, please see the links below or just call us at 1-800-922-7747. We will be happy to discuss any questions you may have and discuss the benefits to staff, surgeons and administrators of having an RNFA team at your facility.

Prerequisites for becoming an RNFA
---
---
Surgical Continuing Education
Carotid Endarterectomy
Vessel Harvesting
Cesarean Section
–and our latest, Robotic Surgery Training!
Call 1-800-922-7747 for details!
---
NIFA Office Hours
Monday-Thursday 7:30am – 5:00pm (Fridays 7:30am – 4:00pm).