We want to honor October as Breast Cancer Awareness Month.  But we also love to celebrate the spookiness of Halloween. So this issue brings you some of each!
This past weekend, actress Kate Hudson and her mother, Goldie Hawn, added pink streaks to their hair in honor of friends, family members and others who are fighting or have fought breast cancer.
Whether you get your own pink curls, sign up to run in a Susan G. Komen Foundation Race for the Cure, Shop Pink to benefit the Breast Cancer Research Foundation, or donate to the American Cancer Society, this is the time to raise awareness about breast cancer–even if you just quietly raise your own awareness. The Breast Cancer Research Foundation website is a good place to start.
In this issue we bring you a video about breast reconstruction surgery, because so many breast cancer survivors move on to reconstruction as a next step after mastectomy.
You'll also find our Student Spotlight on Pollyanna Pastor, Women's Health NP, and the latest RNFA job listings we've collected for you.
But for most of this issue, Halloween prevails. Hope yours is a spooky one!
---
Video: Deep Inferior Epigastric Perforator (DIEP) Flap Breast Reconstruction
This video, from Oncology Broadcast Med
, shows a step-by-step breast reconstruction surgery following a mastectomy on a patient with breast cancer.
Stephanie A. Caterson, M.D., and Matthew J. Carty, M.D., from the Division of Plastic Surgery at Brigham and Women's Hospital, Harvard Medical School, perform an abdominal flap harvest followed by a deep inferior epigastric perforator (DIEP) flap breast reconstruction, a microsurgical technique that uses the patient's own tissue with no need for an implant, preserving as much of the natural breast skin as possible.
---
The Washington Post has a monthly column detailing medical mysteries, written by Sandra G. Boodman.
Click on this link to choose from almost 50 stories, each one recounting the diagnosis of a puzzling medical case.
---
Pumpkin Surgery
Click on
this link
  for an in-depth look at Pumpkin surgery, including:
lobotomy
plastic surgery
construction and use of an artificial brain
cryogenic preservation
---
Medical Halloween Costumes
---
Medical Halloween Jokes
Q:  What's a vampire's favorite fast food?
A:   A guy with very high blood pressure…
Q:  Why do mummies have trouble keeping friends?
A:  They're so wrapped up in themselves…
Q:  What is a vampire's favorite mode of transportation?
A:  A blood vessel…
---
Student Spotlight: Pollyanna Pastor
Name: 
Pollyanna Pastor
Credentials: 
Women's Health NP
Student Status:
  Current student
City and State:
Aurora, CO
Current Job:  Hospital-based Women's Health Nurse Practitioner at The BirthPlace at Parker Adventist Hospital; provide rounding services for Centura Health Physicians Group-Women's Service Line at Parker
Why did you want to become an RN?
I enjoy helping people be as healthy as they possibly can be. I became a WHNP to provide care to women, to encourage them to take care of themselves. I now work with women after they have their babies so they can return to their lives and embark on one of the most important journeys of their lives: parenthood!
Where did you get your RN training?
I got my BSN from Loretto Heights College and my MSN from the University of Colorado Health Sciences Center.
Why did you decide to become an RNFA?  
The physicians requested that I first assist during C-sections. This frees them to see patients in the office at an earlier time. This also provides additional continuity of care because I can be part of the C-section, then follow the patient's care postoperatively until discharge.
What was one thing you learned in your RNFA training that was unexpected or particularly helpful?
It is difficult to cite only one thing because I've learned so many things from both the online reading/testing and the SutureStar Workshop. Instrument handling has been very helpful and learning to throw a surgeon's knot one-handed has been very useful during surgery.
---
Job Front
Click here for the RNFA job postings
we've collected for you this month!
---
Questions?

Do you have questions about implementing an RNFA team or becoming an RNFA?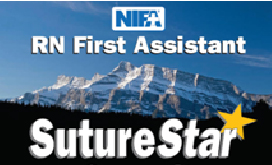 RNFAs, APRNs and Implementing an RNFA Team
will answer many of your questions. If you need answers more quickly, please see the links below or just call us at 1-800-922-7747. We will be happy to discuss any questions you may have and discuss the benefits to staff, surgeons and administrators of having an RNFA team at your facility.
Prerequisites for becoming an RNFA
NIFA Office Hours
Monday-Thursday 7:30am – 5:00pm (Fridays 7:30am – 4:00pm).