From the Editor
For September, our surgical topic is thyroidectomy,
surgical removal of all or part of the thyroid gland. Scroll down for a video about the procedure. Thyroidectomy is used to treat a variety of conditions, including thyroid cancer, and September is
Thyroid Cancer Awareness Month
.
This month's Student in the Spotlight is Casey Dye, MSN, ARPN, NP-C, of Reno, Nevada.
Enjoy!
Julie Lancaster, Editor
Thyroid Disease and Surgical Procedures
The American Thyroid Association offers a wealth of information for patients as well as healthcare professionals and scientists at their website. And the 83rd Annual Meeting of the American Thyroid Association takes place October 16-20, 2013, in San Juan, Puerto Rico. The annual meeting brings together more than 1,000 physicians and investigators from around the world to share the newest clinical and basic science research into thyroid disease.
The New York Thyroid Center
, a section of Endocrine Surgery at Columbia University Medical Center, offers another website rich with resources about thyroid conditions and thyroid surgeries. Information ranges from patient-friendly education to scientific research.
Thyroidectomy Video
Get a firsthand look at a thyroidectomy–in this case, removal of an enlarged thyroid from a female patient–in this 52-minute webcast from Homestead Hospital. Based in Homestead, FL, the hospital is part of Baptist Health South Florida. General surgeon George Tershakovec, MD, performs the procedure.
General Nursing Apps
We didn't find any surgical apps pertaining specifically to thyroidectomy (let us know if you know of a good one), so we're bringing four general nursing apps to you this month. All four are compatible with iPhone, iPad and iPod touch.

PreOp Eval organizes and presents much of the guidance needed to evaluate and prepare adult patients for non-cardiac surgery. It is based on guidelines on from the American College of Cardiology & American Heart Association.
The Nursing Drug Handbook app gives you free access to 25 full drug entries. Once you've downloaded the free App, you will be able to access thousands of additional drug entries in the Lippincott Nursing Drug Handbook via an InApp purchase, giving you all of the vital information you need to provide safe patient care.
Mosby's Nursing Consult delivers fast, accurate clinical information nurses need, such as drug monographs, drug calculators, conditions and treatment, medications, discharge instructions, and more.
Taylor's Clinical Nursing Skills Handbook provices 180+ basic and advanced nursing skills at the point-of-care. Easily locate a particular skill and follow step-by-step instructions on your device. This app contains hundreds of illustrations and photos to help demonstrate key techniques for each skill. Rationales accompany each nursing action to promote a deeper understanding of the principles supporting nursing care.
Student Spotlight
Name:  Casey Dye
Credentials:   MSN, ARPN, NP-C
City and State:  Anchorage, AK
Current Job:  Sierra Regional Spine Institute, Nurse Practitioner
Why did you want to become a nurse? I decided to become an RN my senior year in high school.  There was a stairwell that I passed through every day that had a few posters up about nursing.   These posters were for military nursing, but it got me thinking that maybe being a nurse was something that I would like to do.   
 Where did you get your RN training?  I earned my Bachelors and Masters degrees in Nursing from University of Nevada, Reno.
 Why did you decide to become an RNFA?  I was encouraged to become an RNFA by the surgeons and other first assists at my office.  I am really glad they did, because so far I am loving my new job!
 What is one thing you found particularly useful in the training?   One thing that I have learned in my RNFA training is to stay cool under pressure.  Complications can occur during surgery and the best way to approach them is with calm, clear thinking.
Questions?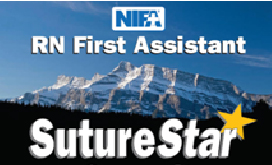 Do you have questions about implementing an RNFA team or becoming an RNFA?
Our continuing education course, RNFAs, APRNs and Implementing an RNFA Team, will answer many of your questions. If you need answers more quickly, please see the links below or just call us at 1-800-922-7747. We will be happy to discuss any questions you may have and discuss the benefits to staff, surgeons and administrators of having an RNFA team at your facility.

Prerequisites for becoming an RNFA
Surgical Continuing Education
Carotid Endarterectomy
Vessel Harvesting
Cesarean Section
–and our latest, Robotic Surgery Training!
Call 1-800-922-7747 for details!
NIFA Office Hours
Monday-Thursday 7:30am – 5:00pm (Fridays 7:30am – 4:00pm).