Become a formal RNFA recognized by all 50 State Boards of Nursing
The new RN Fir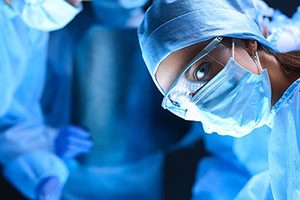 st Assistant (RNFA) Educational Standards by the Association of PeriOperativeRegistered Nurses came out in December of 2013, requiring the completion of a formal, accredited college, RNFA Program for all perioperative nurses and APRNs practicing in the expanded role of first assistant at surgery.
NIFA®, a Colorado corporation, has partnered with accredited college nursing programs throughout the country to become the nation's largest trainer of RN First Assistants. Our dynamic programs lead to the CRNFA® and RNAS-C exams (see www.nascertification.com)(NIFA RNFA Program has been accepted by CCI since 1998). Add that to our 3 and 5 day SutureStar™ Workshops, and it's easy to see why out of all RNFA graduates each year, over 75% trained through NIFA.

Our One-Of-Kind RNFA SutureStar™ Workshops!
At three in the morning, in the middle of a complex surgery, a surgeon wants a highly skilled and competent RN First Assistant, not an unprepared student. Mastery of surgical skills is the ultimate measure of a successful RNFA. In the late 90's, the National Institute of First Assisting (NIFA) recognized this problem and developed training programs for experienced, perioperative Registered Nurses and Nurse Practitioners that raised the bar in RNFA training.
According to the 2019 AORN Salary Survey, RNFAs receive 18% more (relative to base pay). With up to 30 times more hands-on training than others, NIFA's SutureStar Workshops guarantee to have you performing at expert levels before seeing your first patient in an RNFA Program's clinical internship. It just makes sense that when you add NIFA training to your portfolio, you'll do even better and be even more in demand!
NIFA is the only RNFA training that offers the following classes, guaranteed to take you to the front of the line:

Laparoscopic Labs
Endoscopic Vessel Harvesting (EVH) Labs
Total Abdominal Hysterectomy (TAH) Labs
Transverse Colon Resection Labs
Cesarean Section Labs
ORIF of the Femur Labs
Carotid Endarterectomy Labs
Abdominal Aortic Aneurysm (AAA) Repair Labs
RNFA Reimbursement Seminar

See our SutureStar™ Workshops

Your success as an RNFA is directly commensurate with the amount of hands-on training you receive now. That's why, since 1997 NIFA's given this guarantee: you will master the skills of the nation's top RN First Assistants or we will retrain you free of charge. See the NIFA difference by requesting our new brochure today!