Written Testimonials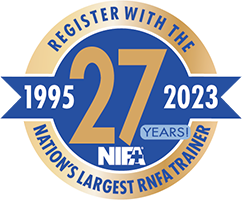 We asked our graduates how RNFA bettered their life (during Covid 19). Below are some of the responses within 24 hours:
Beginning Oct. 12th, the first 50 Enrollments Take 15% Off!
It is the only job I would perform for NO PAY; it's that good!
My ability to work collaboratively with the surgeons to assist in the surgical cases for healing clients that are sick is the most gratifying part of my job. Obtaining my certification as RNFA made me part of the physician team and demonstrated commitment to my profession. Working in an administrative role as well as RNFA role has allowed me the greatest autonomy in the healthcare field. My dedication to my contracted hospitals has me in a demand for great work achieved each case that I assist on daily. Enjoying a strong salary, able to assist on cases that pay well, and using evidence-based practice has truly helped me to be an integral part of the surgical team…
The quality of life gained by the increase in salary may be the least important thing I have gained from becoming an RNFA. This job is strange because at the same time, you have this profound feeling of service, helping both a surgeon do their best work as well as helping a patient on what is likely their most frightening day… But you also have this feeling of accomplishment as you are able to act semi-independently, with the full trust of your surgeon, using your experience and knowledge to make the patient's outcome the best it can. Finally, it is a wonderful feeling holding yourself to a higher standard and becoming a person who your OR staff are able to count on as a resource and possibly look up to, providing a role they can aspire to.
I would say being an RNFA has allowed me to help others in a way I was born to (Mom was an RN; Dad was a carpenter), and has allowed me to be involved in patient care in a way that few people get the opportunity to participate.
This is improving my life in several ways, by doing what I love to do on daily basis and by improving my income, it's worth all the hard work and dedication. Thanks NIFA.
Allows my schedule to be more flexible so that I can spend time with my son who is 1 1/2 years old.
Yes! I am more engaged in my nursing career than ever before. I am looked to by surgeons to help their cases go smoother and more successful. Also, the pay increase has been helpful.
Being an RNFA has brought my clinical practice full circle. With this skill set comes ultimate flexibility in work roles. I function as a circulator, scrub nurse and RNFA for a wide variety of cases, and I have a more comprehensive understanding of clinical pathology and operative sequence, enabling me to provide better care to my patients. Also, the increased compensation is excellent.
Being an RNFA has given me more autonomy as an OR nurse. I've been an OR nurse for over 25 years and this added responsibility has made it more exciting and engaging. With the use of scrub techs, the nurse doesn't get to scrub much anymore so this keeps my scrubbing skills sharp. I "was raised" in an all RN OR and I was beginning to miss scrubbing so that's why I became an RNFA.
I have gained a greater understanding of what my perioperative patients experience. I have a broader role in the care of my patients. I have greater opportunity for professional achievement and monetary gain.
Learned a lot of new skills, made me a more versatile provider.
I am involved with my patient's care from pre-op to discharge from ortho care now that i also scrub all the ortho cases.
Given me more opportunities in my General Surgery NP job, following patients from admission to discharge. I can assist the surgeons allowing them more hands to help with operations, especially in the evenings and nights.
Being an RNFA has opened many doors for me and allowed me to better myself personally and professionally. I specialize in orthopedics and am very happy where I am in life.
I have enjoyed the flexibility of being able to function in the clinic or in the OR as a critical member of the team.
It has broadened my scope of practice and I have more tools in my arsenal/resume.
It makes my job more interesting with a special skill set.
I have worked with the same orthopedic surgeon for 17 years. We work well together and it's really nice to be able to assist without working out of my scope of practice. Being able to suture the wounds so he can leave the room really increases our efficiency.
Becoming an RNFA has opened several doors for me. It gave me the opportunity to grow in the OR, and it sparked a fire for me to return to school to become a nurse practitioner. As graduation nears, I have already had multiple surgeons extend offers of employment.
I'm able to assist in the OR, this is in addition to INPT, OUTPT and ICU settings. Expanding my areas of patient care for my specialty population. It has been very professionally gratifying.
Since becoming a RNFA, I am better prepared to assist not only the surgeon but everyone participating in care of surgical patients. It requires commitment to stay current on new procedures. Some of our staff that are CSTFA and don't have the same outlook on the entire perioperative process.
I have always like being an open-heart nurse. Becoming an RNFA in open heart has opened so many doors for me and my family. Both professionally and financially I know that I made the right decision.
I have the ability to assist in any setting.
I set my own hours to work and what surgeries I like to assist.
Mo money mo respect mo skills mo professionalism
Allowed me to gain confidence and skill set in the operating room.
Allow much greater career possibilities, greater satisfaction in daily work.
I have learned a lot of respect for the medical community in our town. Being able to bill for my work has allowed me to pay College tuition for two children without taking out loans or going into debt.
It has definitely bettered my life. It has given more experience and skills and broadens my opportunity as a nurse.
It has bettered my life by allowing me help so many.
In case in scope of practice. Increase in salary. More enjoyment at work.
It has allowed me to establish a career in the field of orthopedic surgery which is both financially and professionally rewarding.
My practice at my hospital has allowed me to expand what I have as an experienced RNFA in Functional Neurosurgery to other hospitals as far as teaching residents from their first year to their last. I also have been teaching surgical scrub nurses who are working towards a FA-SA with their skill sets and mastering the art of being a FA. I have also found that I am in higher demand in my service line then when I was just a circulating nurse even though I had previous assisting experience as a house-trained assistant at an older hospital that I came from.
I am able to make a little more money assisting vs scrubbing or circulating. And it always a plus on my resume.
Better pay and love my job now!
Creates more job opportunities and clinical skills.
I make more money now and I am more marketable because I can scrub, circulate, or assist.
Not only am I more satisfied in my career but my flexibility and time I get to see my family is greatly increased.
Better pay and better hours.
The RNFA has opened many doors for my future that I can't wait to see what lies ahead for me.
More money and the knowledge of new skills.
I feel more involved in the surgery.
Making more money is definitely an upside to being a CRNFA. Besides the financial aspect, I feel like I have more respect than I ever have had in my nursing career. Surgeons, nurses, and scrub techs come to me to help solve their problems.
Advanced my NP career and got me higher pay.
Increased job satisfaction and Increased revenue.
I have broader experience in surgery. I can assist physicians in multiple areas of surgery, before I could only circulate cases or scrub but now I can help in all areas.
Being an RNFA is a different world. Love the advanced skill set, respect, and extra money, of course.
Becoming an RNFA has bettered my life in that of both my career and pay. I have scrubbed and circulated in the OR and now being RNFA, I can help in many ways for my patients.
I have had educational opportunities to learn new procedures with selected surgeons and then have been able to come back and in-service/teach these skills to other team members. Being an RNFA has put me in a position of knowledge and expertise that both the staff and the surgeons rely on. I wish I had done this earlier in my OR career!!
More knowledge. More responsibility. Make your own schedule. Increase in pay.
I am currently gaining many new skills every day and these skills are making me a more confident person in my career and in my life!
More diverse opportunities in Surgery.
I am extremely happy with my training and my new role. My hospital decided to create a new position for an RNFA and I was the successful candidate. I am hoping that this role will continue to expand.
Better credential and pay.
I have been able to increase my income and step into a management role as well as assisting.
I feel like I am such a valued employee in the operating room. I have a wonderful rapport.
It allowed me to get my current job as an APRN, RNFA in pediatric orthopedic surgery with all of our surgeons.
It has provided me with more professional flexibility. I truly enjoy my time in the OR.
Better pay and working hours.
Increased knowledge…furthering my career…Increased income.
I absolutely love my job!! I actually don't mind getting up each day and going to work. The satisfaction that my job brings on a daily basis is gratifying!!
I really enjoy the job I have as a surgical assistant! I have been able to work part time and be available for my kids as well.
I love my role as an RNFA! It has given me the flexibility to work the hours I prefer to work and give me the advanced role that makes me feel like I am being used more significantly in surgery.
First Assisting has opened up a whole new world for me. I love the challenge. It has given me a completely different perspective and a lot to think about and consider in terms of surgical procedures. It has also boosted my income, which is nice.
I have achieved a higher level of patient interaction and participation in their care. I challenge myself on a higher level, both intellectually and professionally. I am able to set my hours and stay involved in my desired specialties.
As an experienced outpatient NP in a surgical specialty, completing the RNFA program has allowed me to give more thorough care from evaluating in clinic to pre-operative education, assisting in the OR and post-operative care. Patients appreciate the step by step the process of a surgical day for them and over all have a better understanding of their medical care.
Help me to improve my job quality and give me more job opportunities.
I am in a position where I love my job and I got a sizable raise as well, which definitely helps.
I am doing the dream job. I have the best job ever!!
It has opened doors of opportunity in my facility and other facilities that I work in. I am more confident in my skills. I have become a more confident leader and teacher to younger staff and students. Physicians are pleased with the skilled assistance during cases.
I graduated in 6/2011 with my RNFA. By august of 2012 I left my current job in an ortho clinic doing both office and surgery to start my own business providing surgical assisting services… It has definitely provided me with a freedom I have not had before.
It gave me a good reputation and advancement of career.
Becoming an RNFA has given me more opportunities than I could have ever imaged as just an RN. I am able to help people in a way that is unbelievably rewarding.
My pay increased greatly and I'm learning new things every day. I have advanced my career to a great level in which I feel respected and challenged.
It made me able to help the surgeons take care of the patients in the safest possible way. I like to see the way we needed to help them out so when the patients have questions; I am able to educate them.
It has allowed me to make more money!
Becoming an RNFA has taken my nursing practice to a profoundly higher level that I could never have imagined I've assisted in almost every specialty and become a conduit harvester, great career move thus far!
It has increased my knowledge and skills in the so that I am more valuable to the hospital where I work. I have received an increased wage because of it.
Becoming and RNFA has definitely made my work life better. Coworkers show a new level of respect for the skills we can offer to the surgeon, and I've discovered myself being an even better team member. I have both nurses and techs making positive statements that I'm working with them.

…Taking the course allowed me to fulfill the commitment that I made to my new employers to become certified. In this way it has helped me to build a new life in a new state.
Beginning Oct. 12th, the first 50 Enrollments Take 15% Off!
Reading above, you've read testimonials about job satisfaction, more recognition, more flexibility, more doors opened and definitely – more income! We hope 2020 is the year you take your perioperative career to the next level with NIFA. Register by August 15, 2020 and save up to $900.00 on tuition! Call 800-922-7747
More past testimonials below.
Wow! The program was excellent. I learned more than I ever expected or could have imagined. I love the way that learning and practicing techniques were in context of the various surgeries. The program strengths – 1) Instructors – Jeremy, Dean, Eric were excellent. Terri was great – very patient and friendly; offered useful tips for working smarter… All the instructors were kind, friendly, open to questions and interactions, patient. They were on time and well prepared; enthusiastic about teaching, dedicated to our learning and committed to excellent practice. 2) Course Format – working in pairs/threes allowing each person to repeat the exercise several times. Learning techniques in the context of the actual surgeries. The foam simulators were excellent b/c they create the experience of working deep in a cavity; foam was resilient to multiple punctures; handled well. Lecture on anatomy and other surgical details were kept brief. Limited lecture with hands on emphasis was excellent. Constant presence of instructors was great. 3) Supplies – ample. Having ample suture, foam, instruments, gloves available allowed us to focus totally on our learning (vs. competing with other students for supplies) 4)  The course held in the hotel!! Big bonus. Made it very convenient. It was such a relief that we could just go to our room and collapse after the long day. No travel inconveniences. And, the hotel staff I encountered were friendly and eager to help. High marks for the Hilton Garden Inn. 5) Personal interactions, connections – Every interaction with EVERY NIFA staff member was pleasant. I felt welcomed from start to finish. I felt supported and appreciated… I appreciated the generosity… the dinners and for the extra touches – the NIFA song and the champagne fountain. They made a difference!! It felt like being part of a family and I value that. I appreciated the NIFA executives' presence and support. Appreciated the professionalism expressed in their comments and their business attire. 6) Lunch pre-orders – This was so smart! Huge thanks for providing us with hotel restaurant menus in the AM. Having our lunch ready and available immediately on breaking for lunch was a huge convenience. Yet another thing to not have to worry about." Andrea Bakas RNFA Summit Student
I can answer that having become an RNFA has DEFINITELY helped with my position in the OR during this economy. I am so much more valuable because they can put me wherever there is a need, whether it be circulating, scrubbing or RNFAing. In fact, we have had a couple of people quit because they were unable to get enough hours (our OR has really slowed down, but I am always busy) and I overheard our charge nurse talking to the OR director about how it would REALLY hurt to have the FAs quit because they can be used in so many ways! Ahhhh… job security! Anyway, I am thankful every day that I took that next step to RNFA." Laurie Van Epps, NIFA RNFA Graduate
will have to say, yes, definitely. I am working PRN as an OR circulating nurse, and as an RNFA with 3 spine surgeons when needed… Forest Park Medical Center in Dallas has been very gracious in letting me work when I can, even letting me clock out to first assist, then clock back in to circulate. This is also an advantage for them as well. Of course, I would like to first assist full time, but this has been working out great. Connie Loop, NIFA RNFA Graduate
Funny you should ask. My job here has increased in hours. Due to decreases in nursing positions our cases run longer into the afternoon and the night. I started a breast reduction at 5pm the other day because we couldn't get started in the OR earlier, but I was idle for two hours in the afternoon. Other services are asking for my assistance, especially general and ortho. As I am an OR employee not a service employee it makes switching easier. I was hired for the Plastic dept from the periop dept but frequently work for other services esp. when we do combo cases,(plastics/gen or plastics/ortho. If anything I feel my job is more secure. Thomas LeBlanc, NIFA RNFA Graduate
Personally, in a private world of plastic surgery, things are actually good in both states and the reimbursement is second best (after spine) if I did not have my RNFA I would not have a job now. Getting this education has opened the door of job opportunities for me. There were at least 5 agency/full-time jobs that I could have had with excellent pay and benefits…. There continues interest from other states… It has been actually very amazing, way better that I have expected, even in this economy. Iveta Everingham, NIFA RNFA Graduate
Being an RNFA allows me to go assist on surgeries on my own patients and bring in more revenue. I am planning to start delivering babies again soon, too, I hope (I stopped for a few years because of family situations), so I will get to do more c-sections while I am in labor and delivery. It just rounds out the whole patient care cycle and makes me more valuable to the doctors I work for. Also I can explain things in the office better to patients. Stephanie Beasley, CNM, NP, NIFA RNFA Graduate
Absolutely! It has contributed to my job security. In our facility RNFA's are being utilized for almost all cases (general, peds, ortho, spine, and robotics) and it greatly improved our surgeon's satisfaction. Rommel Ducasi, NIFA RNFA Graduate
I do think that my abilities of a RNFA does help with my job security because I help to shorten the operation time sometimes as much as a couple hours on the surgery. I also feel that my Doc really does like the fact that when we are at the hospital that he does not have to worry that they may not have everything that they need and that he does not have to deal with these kind of problems because I try to stay on top of these issues. I really do feel that a RNFA does have better job security due to the fact that they can do more things than a RN." Sandie Speed, NIFA RNFA Graduate
Yes. There are times when I am used to first assist and also stay late to help a surgeon… I think one of the things that make me more marketable is that I can wear so many hats…scrub, circulate, first assist, precept, and charge nurse. Thanks for the question. Peggy Schlomer, NIFA RNFA Graduate
With fewer residents available to assist with cases, the RNFAs are very busy. Because the RNFAs can scrub, circulate, and assist, the charge nurse has more flexibility in making assignments." Joanne Niwa, NIFA RNFA Graduate
"Being employed as a hospital-based RNFA has both significantly raised my income as well as changed my life for the good. My annual salary has increased approximately $20,000 while my hours worked have decreased. There is no greater satisfaction than doing the work you love, being appreciated for your knowledge and skill and as an added bonus being well compensated!" Debbie Brown RN, CNOR, RNFA
Why become a formal RNFA through NIFA?
I have a great story about becoming an RNFA

When I did my training last July, it also was around the same time that a robotics program was just starting to emerge at our institution. My training through NIFA helped me to become the primary RNFA for the Da Vinci Robotics program at York Hospital. I was able to attend "wet labs" with these surgeons and practice on pigs prior to our first case. It's amazing how my training through NIFA has helped me step up to this new challenge and feel confident to take on such an amazing responsibility. Over the past year, we have done an amazing 200 robotic cases, and they thought we were only going to do 50! I primarily do general/gyn cases and also have become an unofficial robotics coordinator for this specialty. We are on our way to become an epicenter for GYN procedures – one of only a few institutions across the country! WOW! I sure feel special to be a part of this program! And thanks to NIFA, who helped me be the better RNFA. I also have talked two more coworkers into signing up with your organization. They are in the process of getting our management to approve them, and I hope to direct a few more who are waiting to take their CNOR.

Thanks for letting me share. Angela L. Uhler RN, BSN, CNOR
Jeremy,

I have been an independent CRNFA for 8 years, and my income increased to 2 time's that of my income as an O.R. nurse for 7 of those years. Recently, our community has had several big industries leave this town and move to Mexico, so my income as an RNFA has been cut in half. But it is still rewarding, and pays as much as a full time O.R. staff position, but with fewer hours and less O.R. drama. I love it! It really helps if you have state legislation that backs RNFA reimbursement too! Tell your RNFA students to picture this.

The life of an Independent RNFA:

working only a few hours of the day, and when the cases for your surgeon are done – you're done!
report to only the surgeon
no involvement in O.R. drama
no weekends, no holidays, no call
income 2-3 (time's) that of a full time O.R. position, yet you only work approximately 12-24 hours a week (depending on your surgeon's O.R. schedule)
autonomy & being able to help the O.R. staff prepare for your surgeons' procedural needs
respect of your peers & your surgeon
O.R. staff is happy that you are there

Sounds like the ideal position doesn't it? Well it is! Donna CRNFA Illinois (2008)
Re: NIFA will make you a 'Suture Master'
I really have to tell you that the training I received was great! It taught me so much. The doctors really love it that I have so much knowledge. They don't even want to suture their patients anymore. Also, their patients love the closures of their incision sites. One doctor even called me yesterday (he had his patient in the office) and wanted me to come to his office. The patient stated, "that nurse really is great, I had a ugly scar before and now it is beautiful." Now, that was a great feeling!

I do OB/GYN which I truly love. Again, thank you for everything. NIFA really changed my life!

Happy Holidays to you and yours, Mary Corsi RNFA, CNOR
Re: We'll make you a 'Master' in all specialties
Hi and happy holidays to you to.

My major specialty is Retina. Not many RNFA's are in this area. I have found myself and my services in demand at my facility, as well as in other areas depending on the day of the week. I was on call one night when a physician needed an RNFA. None were available. One of the staff nurses said 'Denese can do it.' So there it was; a Laparoscopic obgyn case which I have done many. The surgeon asked do you close? I thought about it a second and my response was 'of course I do!' I had gotten a reputation of a Retina expert, but no one knew just how many hats I really (did) do wear. Much to the MD's surprise. I closed like a champ. Perfect edges no strangulation there. Next time I worked with the same surgeon she simply asked, 'Can you make it pretty for me?' It was my pleasure to step up to the plate. Thanks to NIFA's excellent training. The suture DVD training is also a great refresher. I also do orthopedic general and neuro cases with confidence. THANKS NIFA! Denese Monroe RNFA CNOR
Just wanted to share some wonderful news! I recently passed my RNFA Certification exam (CRNFA). YEAH! What got me through the exam were the excellent NIFA course materials that helped to prepare me. Thanks again for everything." Joanne Niwa, BSN, CNOR, CRNFA, ON Honolulu, HI
Re: Dallas, TX. SutureStar Workshop:
I have just taken the suture star course on May 19-24th. It was absolutely terrific! I am very pleased with the techniques that I have learned. NIFA is excellent! They have really mastered imitating surgery, and the techniques needed to become a great RNFA. I really liked working with our instructor Jeremy. He made learning fun and enjoyable. He really took time working with each student, each of us at our own pace. He allowed us to create our own atmosphere of learning, making sure that we each grasped the concepts and tasks of the day. I am very happy that I chose NIFA!" Kellie Young RNFA Student
Thanks for the opportunity to share my experience.

Jeremy is GREAT! I am an Adult Nurse Practitioner without any OR experience. I researched several courses and found that NIFA is the only course which provides a focus for the NP without OR experience. Prior to attending the SutureStar Workshop I felt intimidated that I would not be able to keep up with the experience the rest of the class had in the OR. On the first day of class Jeremy Gofton provided the opportunity for each of us to learn more about each other and shared about himself. As we began suturing and tying using our simulators I found the videos had prepared me well and my confidence grew. When we began to work together on the surgeries I found that each member of the class brought different expertise to each surgery and Jeremy encouraged us to share these with our fellow classmates. The simulators were accurate to the clinical anatomy. Jeremy was very, very patient with each of us, allowing for an optimal learning environment. He continually provided constructive and positive feedback. I was impressed he identified our individual weaknesses and strengths and paired each of us with a different classmate each day to encourage us to learn from each other as well as from his instruction. The hands-on experience was extremely valuable, and Jeremy provided as much time as we needed. He offered for us to repeat a surgery or spend additional time on a specific skill with his assistance after every class. The relaxed encouraging environment truly provided an optimal opportunity to learn as much as possible. I have had many, many instructors in the professional setting as well as the collegiate setting and Jeremy is one of the very best! I believe I am well prepared to enter the OR for the clinical portion of this course.

I have been very impressed with the instruction and customer service from NIFA and would recommend it to anyone who wants to perform above the standard in the OR.

Thank you for your interest in the feed back from a student. Donna Michele Prichard NP RNFA Student
I recently finished my Suture and Tying workshop for my RNFA course through NIFA and had a really great time!! I didn't want to write some cheesy testimonial but then I thought to myself, "How can I relay to others how great this program is?" After some debate, I figured this (email) was the best way to do that.

I have wanted to do an RNFA program for about 4 years and finally got the nerve to just do it. I researched programs all over the country and it seemed that I kept going back to the NIFA program. Yes, there were other programs that were cheaper, but I tend to go on the theory that "You get what you pay for." I didn't want to get cheated out of the best learning experience that I could have. Some programs were all lecture and bookwork. I decided to go with NIFA because the staff took time to talk with me about the program even when I called 3 minutes before the office closed. They stayed 30 minutes late just to answer my questions. That is dedication!! And good customer service. I was impressed. Not only that, but to have 6 full days of hands on training, I couldn't pass that up.

Once I got to the workshop, I was nervous, but those feelings were put to rest right away. The instructor, Kasey (Kathleen Johnston CRNFA), was phenomenal!!! The simulated surgeries were very impressive, the techniques I learned are invaluable. I will use them always. I even learned a few things that I could take back to teach my surgeons!!! How great does that make me look? The entire program and staff were very friendly and understanding of everyone's different levels of experience/skills. Being a scrub nurse for 8 years, I thought I knew almost everything there was to know about surgery… yeah…I was wrong.

I would highly recommend this program to anyone who is pursuing this avenue in their career. It is well worth every penny I spent!!! NIFA will get my referral every time. Thank you NIFA for all you do. Keep up the great work!!! " Charity Lustgraaf RN, BSN, RNFA Student
I've finished the NIFA program, and just need my CNOR to finish everything up. I have to say, my hospital sent eight of us to RNFA programs, and the ones who have gone to NIFA seem to have had the most positive experience. We got the hands on experience where the other nurses didn't. They just sat in a classroom and listened to lectures all day for a week. We at the NIFA program actually got to get our hands into tying and assisting in NIFA's labs everyday on different procedures. Your instructor and visiting surgeon made it very informative, and we had fun doing it. Thank you, NIFA, for your wonderful program." N. L. Potter, RNFA
Re: Las Vegas SutureStar Workshop
I attended the SutureStar workshop on March 31-April 5. The workshop that I attended was excellent. Kathleen was an excellent instructor. She was able to explain pathophysiology and technique with ease. I came back and was able to take my final exam without much difficulty due to the material and class content that was provided to me. I would recommend this program to anyone who was looking to career advancement. I thank you all for this experience. Nicole Summey RNFA Student
Re: Las Vegas SutureStar Workshop
I just wanted you all to know a little about the SutureStar Workshop. The course uses clinical simulation to teach complex information while incorporating psychomotor skills required in the operative setting. I was truly impressed with the grueling course. Rest assured you will learn and I think be pleased with your individual outcomes. Kathleen Johnston is a gifted educator who is able to reduce mass amounts of information into a clinically usable form. Most nurse educators could take some serious lessons from her. Make sure you well rested, complete the prior learning material and be ready to learn. Steve Branham RN, MSN, ACNP-BC, FNP-BC, CCRN, Assistant Professor Texas Tech University
Recent email from a NIFA graduate to a colleague:
Christine, I heard through the grapevine that you are interested in becoming an RNFA. Well fasten your seatbelt because you are in for the career of your life!

Let me start by telling you a bit of my past adventures of being a nurse. I started in trauma step down and went to labor and delivery from there. I loved labor but noticed that when my patients had to have a c-section my heart jumped a bit. This is where I learned that the OR was my destiny. I have not left since nor do I anticipate leaving. A good friend of mine let me in on the NIFA program and it was the best career move that I have made. Not only did I get into the OR as I dreamed but NIFA prepared me so that I felt completely confident in what I was doing and because of that same education was able to impress my physicians. The program was very easy to follow and there was always help if I needed it. The week that you spend with NIFA is one that you will remember for the rest of your life. I met people that I still keep in touch with to this day. They were a great support system throughout the program and in my practice today. The best part of this program is that I am doing what I absolutely love and have received a huge amount of respect that I never dreamed possible from the physicians and fellow OR staff.

I wish you the best in your future endeavors and know that you will truly be happy with the decision of going with NIFA."

Sincerely,
Mari Wells, RNFA
After becoming a part of a very progressive cardiac team in 1999, I knew that I had to become a RNFA because most of my team members were. I was referred by other nurses to take the course offered by one of the major hospitals in the area. As I collected the required documents and signatures needed to enroll, I saw your ad in the AORN journal, I decided to take your course (NIFA) instead even though it was a little more expensive. I, to this day, do not regret the choice. My colleagues were so impressed. While visiting after work they noticed my study materials from NIFA on my table in the living room. This is a very good course, they told me. Our course was not as in-depth as this one! Even my clinical sponsor was impressed with what was required to complete the course. I do not think any RNFA course could be more complete or rewarding than NIFAs. I will always be proud to have been a NIFA student." Doris White, RNFA
I love the convenience of this course. It is great for nurses with tight schedules. I have retained more from your style of distance learning, study guides and anatomy lessons than any university course I have ever attended and can't wait for the six-day classroom and lab." Cheryl Nygren RN, BSN, CRNFA, contributing writer for Alexander's Care of the Patient in Surgery
I have had a wonderful learning experience with my home studies and the first assistant workbooks are great. I have learned a great deal at the first assistant workshop, not only from the wonderful instructor, who is very, very good but also from the other students and listening to what goes on at their place of practice. Christopher T. Martell RN, BSN, CNOR
This program has been excellent and has exceeded my expectations. I am a Pediatric Nurse Practitioner without any OR experience and although I am nervous, I feel confident that NIFA has well prepared me to enter the OR. I appreciated that most of the lecture content we could do on our own and that my time at the SutureStar Workshop in Las Vegas was spent on hands on training The simulated models were great to work with and Jeremy was an amazing instructor. Prior to attending the class, I felt extremely intimidated since I did not have any OR experience but I soon realized that the video and workbooks prepared me and gave me a good foundation. Throughout the 6 days, Jeremy was able to give us constructive and directional criticisms. I thank Jeremy for his patience and keen eye in identifying what we needed to change to succeed, I thank Emily for responding so quickly to my numerous emails and I thank NIFA for putting together such an incredible experience." Erica Faafiu, PNP, RNFA student
NIFA rocks!! I am working with other RNFA graduates from other programs and they don't have half the expertise that we were required to possess before passing. Your hands-on workshop is worth it's weight in gold!!! I tell everyone I know how great NIFA is. Thanks for your continued support." Lisa Madala, NP, MSN
From the time I went through my operating room rotation in nursing school, I knew that the OR was where I wanted to work. The door was opened to me and I found out about an interesting career path for RNs becoming an RNFA I knew that I wanted to be an assistant one day. So, I made myself a five year plan that included getting my CNOR and eventually getting the training I would need to become a good assistant. I chose NIFA because two RNFAs that I used to work with had been through the program and I saw how poised and confident that they were in their skills. Surgeons were always requesting them by name and I could see something different about them that I didn't see in other assistants who had been through other programs. Boy, am I glad that I did!

I received all of my suturing material in the mail and set right in to practicing. I was so excited to have enrolled in the NIFA program. I did, however become very busy, and for whatever reason procrastinated a bit about finishing my suturing practice lab. Eventually, time snuck right up on me and the date of my workshop was approaching three weeks left! I sutured like crazy over the next few days, trying to finish up that practice lab. I thought to myself "I'm going to look so stupid in this class. They're going to send me home on the first day for being unprepared."

Well, the day arrived for me to fly to Las Vegas. I was excited and scared all at once.

Day one arrived and I headed off to class. I had barely slept the night before, running through all of the suturing steps in my head. I pulled into the parking lot and bumped in to a couple of ladies who were also arriving for the class. (I knew they were there for the class because of their tell-tale practice lab box). I chit-chatted with them a little bit, and turns out they were just as intimidated as I was. We were all in the same boat! This might be alright after all. Then panic! I walked into the classroom and just about fainted. Oh MY GOSH. The lady from the video is teaching the class OH MY GOSH! What was I going to do? I knew that I would be ejected immediately. Man, was I wrong. Kasey turned out to be a blast! She was such an awesome teacher and had so much experience to offer up to us I fell somewhere in between having circulated in the OR for quite a while but only having learned to scrub in the last year. By the end of the week, we had formed some great friendships and learned skills that are crucial to becoming a great first assist. Day one was a bit of a refresher for everyone, but by the end of the week, we were all whipping out stitches like pros and had learned other skills to boot.

I went home so excited to put what I had learned into practice. I have had surgeons tell me that I am anticipating needs better and that they have noticed such an improvement in my skills. The one general surgeon that I mainly work with has already started to let me close patients and said that he thought I did a better job of it than he did. I can only thank NIFA's skills workshop for making that happen for me. THANKS SO MUCH!!!!" Carrie Marin, RNFA
This is an excellent course. I took [another RNFA course] and they did not give you the extensive hands-on training that NIFA does." Susan Zeluff, RN, CNOR, RNFA
I have really enjoyed the program. The assignments were easy to follow and the program staff always was available to answer any questions or concerns I had. This has been my first (but not last) online education program and I have really learned a lot. I have had some very difficult family issues during the last six months, but the program allowed me the flexibility to handle them and still stay on course, even though it has taken longer than I anticipated. The suture lab has given me the familiarity with instruments and suture that will hopefully give me confidence as I start the clinical aspect. I feel that I can call on the staff if needed and that is a confidence booster as well. Thank you to everyone who has put this program together and put so much time into the workshops. You offered additional classes that were exactly what I will be doing a great deal of the time, so this program has so far been what I needed. Kelly DeSantis RNFA Student
Jennifer was great. She wasn't there to fail us, she was there to help us. She explained and demonstrated everything with clarity and for our comprehension. This program has given me a refreshed understanding of surgery and specifically the duties of both the surgeon and the assistants. Thank you NIFA, for giving me this opportunity. Marissa S. Halstead RN, CNOR
The instructors were excellent! They made sure everybody did their work. I learned a lot in six days. Keep up the good work. A lot more people need to learn about this program." Lisa Alex RN, BS
Neat. Fun. Confidence-inspiring. No talk and chalk just the hands-on good stuff!" Linda James RN, CNOR
Very well thought-out and organized lectures and demonstrations. Very effective teacher, patient, calm, diplomatic and honest. This would be a wonderful opportunity for new surgical residents, too!" Sarah Robertson RN, CNOR
Wow have I been having fun! I have been traveling all over the country learning about Robotic Heart Surgery and Minimally Invasive Mitral Valve Repair (NYU, Atlanta, Minneapolis, and University of Michigan). This is like a dream come true – as your program has opened the door for me to advance in my career. In between my travels, I have had numerous opportunities to First Assist and am loving it. Today I did an Endoscopic Left Radial Artery Harvest by myself, while the surgeon worked on the chest, which was used for a four vessel off pump coronary artery bypassing. Through your learning modules, my eyes have been opened to the whole picture. It is like I am thinking on a whole different level now." Dean Parsons, RNFA
Our instructor was beyond all anticipation! Her knowledge, surgical skills and techniques are extremely evident. Presentations were clear, concise and pertinent. When calling NIFA headquarters, communication is always informative and encouraging. My commendation to others who may pursue this program." Beverly Focht RN, CNOR
I can't thank you enough for what you did for my career. The program was wonderful. As a scrub/circulator, I had a lot of job satisfaction, but becoming a First Assistant is really the icing on the cake. It really tops off my job satisfaction. It's given me a greater sense of fulfillment. NIFA's program left me with the confidence that I could do this. It taught me as an adult, with adult needs and expectations, not as someone fresh out of school. They gave me the instruction with patience and understanding so I could leave with the confidence that this First Assisting could be an added OR role and also be fun. I would recommend this program to any RN who wants to add a little more to their career." Thomas W. LeBlanc, RNFA
The class was very good. I feel as though I have gained the confidence and skills to jump in and really be capable to First Assist! It was great to gain experience by tackling cases that I don't normally get to do. The simulators were well done. Whoever devised the simulator for the ORIF did a great job. The femur was very anatomically accurate." Bonnie Krisiak RN, CNOR
Yes. I have recently been promoted and I am sending nurses to school (NIFA RNFA Program) for two main reasons: 1) If a nurse is willing to go the extra mile and train to first assist they will be a better circulator and scrub. It allows me to move them around as needed 2) When physicians take advantage of our services the turn over time decreases and satisfaction increases. Norm Hezlep, RNFA
Being employed as a hospital-based RNFA has both significantly raised my income as well as changed my life for the good. My annual salary has increased approximately $20,000 while my hours worked have decreased. There is no greater satisfaction than doing the work you love, being appreciated for your knowledge and skill and as an added bonus being well compensated!" Debbie Brown RN, CNOR, RNFA