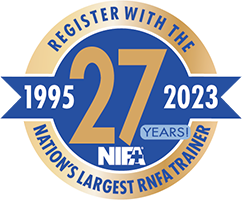 Register for RNFA training by August 31, 2020 and save up to $900.00 on tuition!
Some answers to RNFA's most common reimbursement questions.
Q: How much will insurance companies reimburse RNFAs?
A: The amount insurance companies reimburse varies according not only to the type of procedure, but the type of policy (HMO, PPO, Indemnity etc/). Below are a few examples of some of the higher reimbursements NIFA Medical Billing has received for its clients:
Lap Chole-$492.00-D.S.-Indiana
ACL-$413.00-H.S.-South Carolina
Vaginal Hysterectomy-$423-C.S.-Missouri
C-Section-$300.00-M.R.-Louisiana
Laminectomy-$900.00-P.W.-New Jersey
Rotator Cuff-$325.00-R.L.-Florida
Breast Reconstruction (Tram Flap)-$970.00-K.B.- Florida
Breast Reduction-$1246.00-T.P.-Mississippi
Lap Nissen-$345.00-D.A.-Pennsylvania
Colectomy (partial)-$270.00-C.C.-New York
Thromboendarterectomy-$500.00-G.B.-New York
Coronary Artery Bypass-$1452.00-C.P.-Michigan
NIFA Medical Billing, Inc., (an independent and separate corporation from NIFA, The National Institute of First Assisting) is now successfully billing in over 30 states. Contact them by phone at 1-888-322-6432, extension 202, via the web at www.nifamedicalbilling.net.
Other common questions include:
Which insurance companies reimburse RNFAs?
Do I have to be certified to get reimbursed?
What procedures do insurance companies reimburse for?
How do I get my hospital or practice to bill for RNFAs?
Is it legal to bill in my state?
What do I need to do to start getting reimbursed?
For answers to these and other questions, contact NMB by telephone at 1-888-322-6432 press '202' or e-mail them at [email protected]